Toad Hill
UKC Forum Member


Registered: Jun 2014
Location: missouri
Posts: 1105
Bred a NICE Cabin Creek Rowdy daughter few weeks ago!!!!

LONER is not the "flavor of the month" stud dog, Ive been around/ hunted this line for over 22 years.

LONER is carrying on those desirable traits from a long linebred family .
LONER is throwing Big mouthed, NATURAL Independent, Stay Put Treedogs with extreme INTELLIGENCE !!

Call at the first sign of blood if interested in breeding that nice female to LONER . Come for a hunt !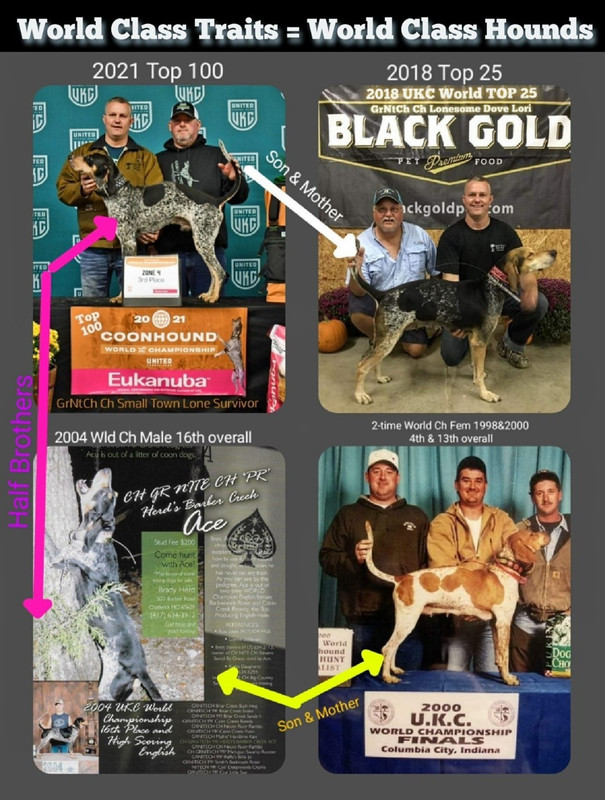 __________________
<<< SMALL TOWN ENGLISH KENNELS >>>

* GRNTCH CH LONESOME DOVE LORI ( 2018 UKC World top 25 ) World Qualified 3 years straight [ double bred , 2X WLD CH Eng Fem GRNTCH Backroads Rosie bred]

* GRNTCH CH SMALL TOWN BINGO STAR DNA-VIP ( 2019 Winter Classic 2nd place ) [ HOF GRNTCH Wilcox Thunder Bingo X Dual Grand Tree Rockin' Nelly ]
(( Star is the Dam to 2021 Southern Eng Days High Scoring Male & Overall Winner ))


* GRNTCH CH SMALL TOWN LONE SURVIVOR "LONER" DNA-VIP
-English Days 2020 - 3rd place Fri / High Scoring male & 1st place Sat night
-2021 UKC World TOP 100
-2022 TOC Qualified
-2022 UKC World Qualified
[ GRNTCH Cabin Creek Rowdy semen X GRNTCH CH Lonesome Dove Lori ]
----- Chilled semen available, 600 million+ total sperm per collection sent - Quality Documented & Guaranteed !! -----


- Live breeding doesn't dictate the future success of a puppy any more than a frozen breeding does.

+ I am the Wretch the song refers to
Last edited by Toad Hill on 08-12-2022 at 09:54 PM