Scott VH
UKC Forum Member


Registered: Mar 2005
Location: Wisconsin
Posts: 1912
Leon's Darkside X Bone Collecter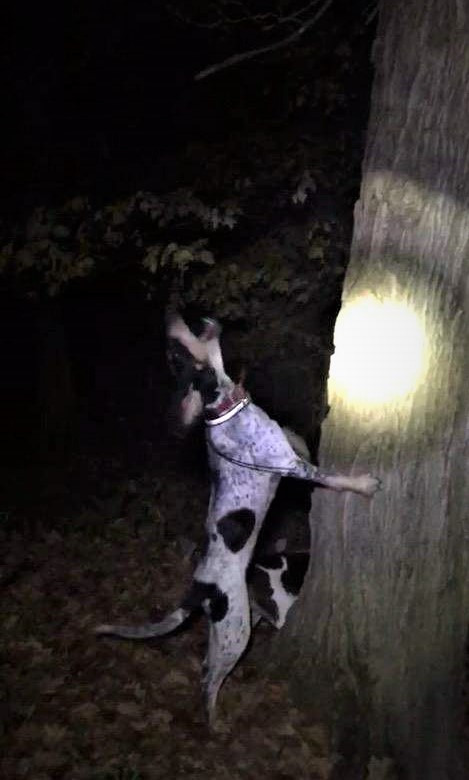 Looking forward to hunting this young female out of Leon and Backwater Brandy. Leon is currently number one on the Bluetick reproducers list and Brandy is a GrNite out of Bone Collector. He needs no introduction.
Some may ask why would you hunt an X-Bred dog? For those that know me I have primarily hunted and Promoted Blueticks through the years and I have had a few that for me and what I like in a dog were good enough to stay at my place and eat. I have also had a few of other breeds from time to time and it was about having a dog that suited me. Many years ago I had happen to me what many hounds man fear and was without a dog. Probably why many of them have too many dogs in my opinion.
I tried quite a few blue dogs and could not find one that I wanted to hunt so started looking "outside the box". There was a fellow named Bert that was in the southern part of the state that had a four year old Walker that he said I should come and try. I was to meet him down at a hunt in southern Wisconsin. I pulled in at the hunt and saw a bunch of people I knew and of course they were wondering what I was hunting because they knew I did not have a dog. I told them I was going to hunt with a dog to see if I would like it. When they heard it was a Walker they thought I was crazy but away I went with Bert and Hawk. We treed seven coon in about two hours and Hawk went hunting, got treed and had a coon. He did not have a great mouth just average but he was good enough for me to take home. I hunted him during the week and a buddy named Dean put him in the hunts during the weekend. Dean made him a nitech quickly and took him to Walker days and got a sixth place on him one of the nights. Hawk was just a good hound quiet in the kennel and a coon dog at night. At Seven he started to slow down quickly and I sold him to a pleasure hunter that gave him a good home and hunted him until he died.
I will be honest in that it was hard for me to find another bluetick that I wanted to hunt and keep but ended up finding one and have had them to this day. Through the years I have had a few walkers out of Spring Creek, Hardwood and Clover breeding and they were nice enough to stay here. Eventually they passed or were sold to hunters.
I have also had blueticks out of all of the popular lines and some not so popular that I considered as good or better. To me I never really cared about the paper as much as the dog.
A number of years back my buddy Rick Jordan and I were hunting at a bluetick hunt in Ohio in the Grnite cast. Three Blue males and a Walker female drew out and we hit the woods. I was hunting Banjo and first drop they all headed in different directions. I struck and tree Banjo to the right and as he was treeing we heard coyotes and he came off of the tree. He would not hunt so I put him in the box. The walker gyp and one of the blue males were working to the left and came down treed. Now I have been on a few casts through the years that I turned into a spectator and I could tell by the way one of them was treeing and by their voice I was going to be interested in watching that dog. Come to find out it was the Walker female. If my memory serves me correct she was just over a year old and she put on a clinic that night and won the cast. She was a big female and had a head that was huge but acted good and was a nice one. She was not handled by a slick handler or anything. She was not easy to forget and the guy told me she was out of Bone Collecter. Being a blue dog guy I did not know who Bone Collecter was.
When the X-Bred thing came into existence I always thought I would like to have a Bluetick that was out of top bloodlines that was out of Bone Collecter on the other side. When Paul advertised the young female that was out in Pa. it did not take me long to make a decision. I am looking forward to working with this young female. She got here last week and has settled in nice. We will see how it goes.
__________________
Home of:
GrNiteCh Oklahoma Blue Creek (Ch GrNiteCh Goodsons Rowdy Bocephus X GrNiteCh GrCh TP's Dizzy Dot)
Floyd's Country Rock (GrNiteCh Pink Floyd x GrNiteCh Oklahoma Blue Creek)
Floyd's Shine On (GrNiteCh Pink Floyd x GrNiteCh Oklahoma Blue Creek)

Gone but not forgotten:
GrNiteCh Mose's Pink Floyd (GrNiteCh Dean's Blue Mose X GrNiteCh B&D's Blue Ruby) Hollis-VH
GrNiteCh GrCh Bullet II's Code Blue Cricket (GrCh GrNiteCh 'PR' Twin Springs Runnin Bullet II X NiteCh Ch JJ's Code Blue Jenny)
Ch GrNiteCh Smokey River Blue Tramp II (GrCh GrNiteCh Smokey River Jean's Blue Tramp X Ch NiteCh Misty River Blue Doll IV)
GrNiteCh GrCh Vining's Hammerhead (Dual Grand Twin Springs Runnin Bullet II X Dual Grand Vining Blue Mollie)
GrNiteCh Ch Uchtmans Blue Logan (GrNiteCh Gene's Blue Newton X ChNiteCh Smiley's Blue Lady)
GrNiteCh GrCh Makin' Music Banjo (GrNiteCh Washburn Valley Blue Drip X GrNiteCh GrCh Razor Ridge Unstable Mable)
GrNiteCh. Uncle Pen (GrNiteCh South Shore Drive Blue Kev X GrNiteCh Frosty's Fancy)
Last edited by Scott VH on 11-15-2020 at 04:47 PM