Ron Swan
UKC Forum Member


Registered: Aug 2012
Location: Oak Hill, Oh
Posts: 199
Currently have a nice litter of pups out of GRNTIECH GRCH HUNT'S REDOAK JAY and SWANN'S MOONLIGHT DIAMOND LADY.

UKC and PKC registered, and Nominated for Performance Program. Males and Females available. Born 3-09-23 and ready to go. Nice pups that should make some good ones. $300. each. No holds. Both Sire and Dam are good Coondogs with excellent pedigrees.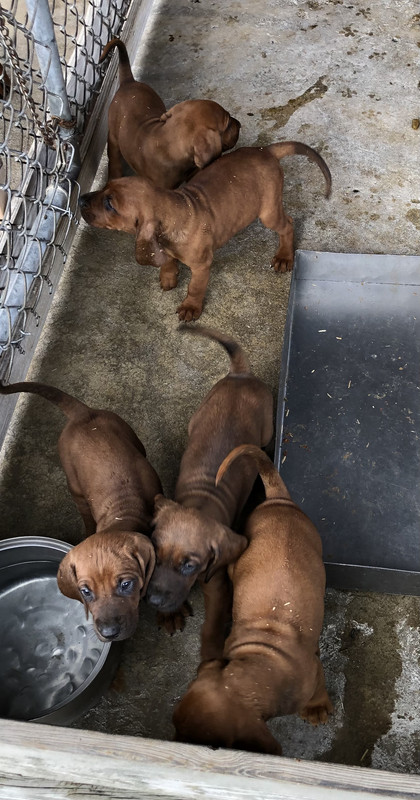 __________________
Swann's Redbone Kennels
Champion Redones Since 1962
1217 Slab Hill Rd
Oak Hill, Oh 45656

Call 740-682-3908
Text 740-978-6444

:Current Dogs

GRNITECH, PKC CH DELCAMP'S BARNYARD GUN [ GRNITECH Delcamp's Barnyard Horse Harry x GRNITECH Triple B Ragged Ridge Toadie ]
CH NITE CH OUTLAW RED REBEL [ GRNITEC Moonlight Outlaw Mac x GRNITECH Moonlight Ky Trip ]
GRNITECH GRCH RED OAK JAY [ GRNITECH PRIOR'S/LUCAS' RICOCHET RED X BELLA JACK'S OUTLAW ]
GRNITECH GRCH CRAZY MNT MIDNITE RUBYS ROSE ( CH T-TOP DEACON x GRNITECH CRAZY MTN RUBY )
GRNITECH CH CRAZY MNT MIDNITE CHERRY REIGH [ GRNITECH MONATAN RED RANGER X GRNITECH OUTLAW CHERRY BOMB ]