Larry Hall
UKC Forum Member


Registered: Jan 2005
Location: NE Indiana
Posts: 508
Bozo, Queen, Lipper, Patch, Lizzy
Gang, I'm not a dog breeder or stud dog promoter. I'm a coon hunter and have been for a couple years. We are going to offer Ranger at public stud if there is any interest. He's a pretty decent coon dog, but not a great score card dog. You want an electrified edge runner who will tree you a hot pop up a mile in, you probably want to pass..

There aren't many bred like him left in the coon hound world any more. Here is an opportunity if you want to go back to the well in the Treeing Walker breed. We took him to town enough to title him and me to remember that I am not much of a comp hunter. Thank goodness a couple of friends helped me out.

Bring your lights and boots and let's go hunting if you have an interest.. Cell phone number is on the ad.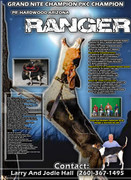 Last edited by Larry Hall on 09-02-2020 at 12:43 PM