breezyoaks
UKC Forum Member


Registered: Mar 2009
Location: wisconsin
Posts: 775
Young dog for sale
Too many young hounds here. I will sell a nice female outta my Babe female x Rocky....she will be 2 yrs old this coming july 7th. Has a big loud male type voice and is tree.minded.
She has limited experience and needs to get in the timber but from what i see she has the right frame of mind.
Id like to get $350 .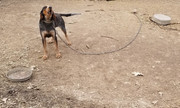 Call or text 608 778 2181
__________________
"Breezy Oaks blueticks"
Home of the ROCK dog

Patrick Barrett
Last edited by breezyoaks on 05-21-2019 at 03:02 AM