gpicklesimer
UKC Forum Member


Registered: Nov 2010
Location: williamsport ohio
Posts: 620
Ch Grnitech Deer creek Diesel Htx semen available ukc performanced!
..
.Grnitech ch Deer creek Diesel HTX 2019 ukc performance sire dna profiled with pkc.

Going to sell one breeding off diesel. Currently located at nevergone in wabash Indiana!

Steady chop on the tree he has a good mouth that carries well. Diesel made nitech at 1 yr old finished to grand shortly after in limited hunts honest strike dog like to be by himself. Can tree coon all year around bring you light not afraid to show him anytime. Not pushed hard in the hunts due to my work schedule

740 656 3884. 740 313 2777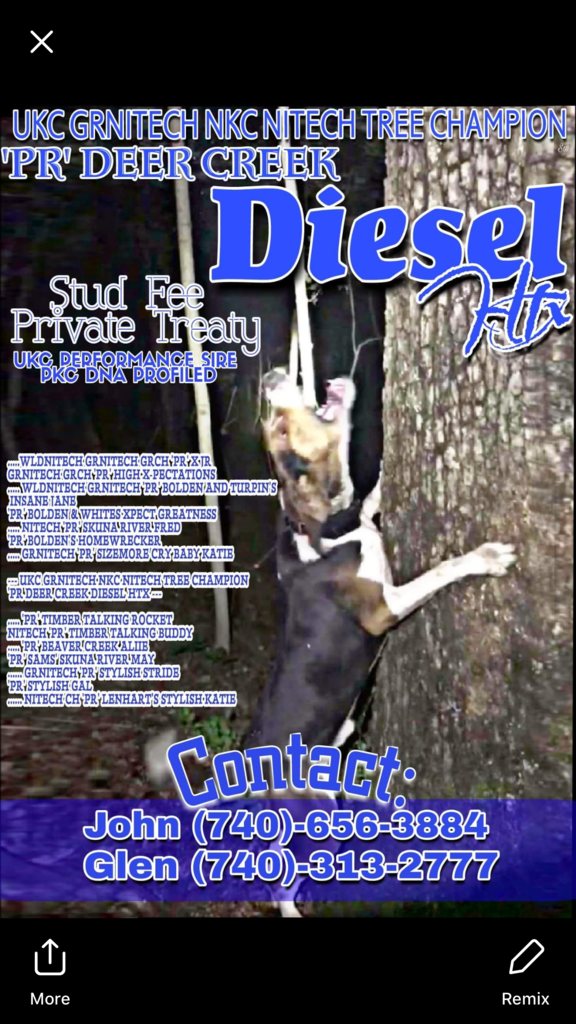 grand pup to high x on the top side heavy stylish on the bottom got plenty of videos and reference steady chop on tree. Diesel is producing some nice pups.





__________________
glen picklesimer
Last edited by gpicklesimer on 01-23-2019 at 07:32 AM