Doug Robinson
UKC Forum Member


Registered: Jun 2003
Location: Warsaw, New York
Posts: 4222
Cracker Jack pup
Randall, not only do they hunt good, they are easy on the eyes!

Below is John Kirby, his wife and daughter KenLee with "Stella" Best of Show and Queen of Show Western English Spring Classic - Jim Thurber Memorial.

Stella is off GRNITECH PKC CH RIVER BOTTOM'S CRACKER JACK X NITECH GRCH ROBINSON'S OATKA VALLEY ANNIE.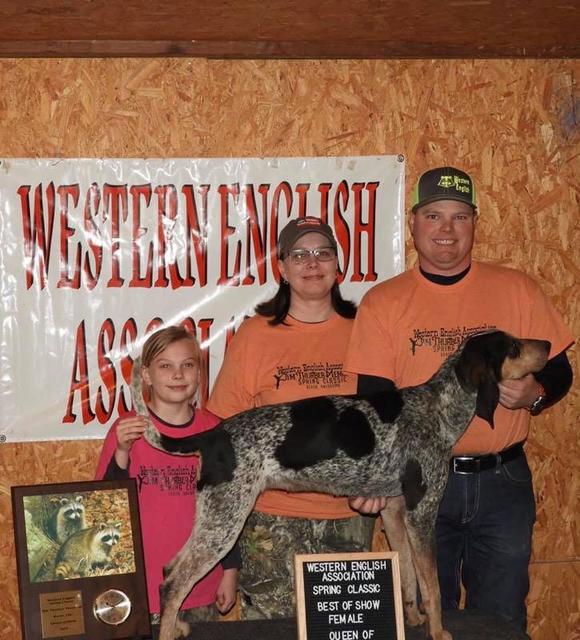 __________________
Doug Robinson

Past Home of:
GRNITECH FCH GRCH ROBINSON'S SILVERTONE BLUSPECK HTX DNA-P
GRNITECH GRCH PKC CH ROBINSON'S RED LINDSAY
NITECH GRFCH GRWCH GRCH ROBINSON'S CROOKTAIL KATE
GRNITECH GRCH ROBINSON'S CIDERHOUSE LULU
NITECH GRCH GRFCH GRWCH RED RIDGE'S SUPER SHOCK Z HTX2
NITECH GRCH ROBINSON'S OATKA VALLEY ANNIE (BLUSPECK DAUGHTER)
NITECH GRCH ROBINSON'S JJ THUNDER SUE

Current
PR ROBINSON'S OATKA VALLEY JUNEBUG - (GRNITECH PKC CH RIVER BOTTOM'S CRACKER JACK X NITECH GRCH ROBINSON'S OATKA VALLEY ANNIE)