Lakeland Kennel
Banned


Registered: Jan 2009
Location: Central Illinois
Posts: 2814
Terry, I have boxes full of video tapes. I used to carry that big VHS camcorder. Now, everything is digital. I have 2 external hard drives full of videos and I am planning on buying a new external hard drive soon. I like it that I can carry my camcorder in my shirt pocket.

Here is a video made by Junior Cartright of Grand Champion Nite Champion Maddy Gee's Roofus. I ask everyone to play the Roofus video, play the Little Bam video and play the Buddy video. Doesn't it almost sound like the same dog? And, I hunted all 3 a lot, I can guarentee you once any one of them committed to a tree, you could go to town and get a cup of coffee, they would be treed when you got back. And, when you turned any of the 3 loose, the next time you would see them is on a tree with a coon in it. Ask Junior if I am telling the truth about Roofus.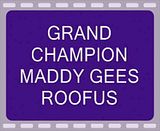 __________________
__________________
Dave Haugh

LAKELAND KENNELS
____________________________
English Coonhounds
____________________________
Gr Ch Lakeland's Phoebe
PKC Sq Ch Lakeland's Mini Mouse
____________________________
Mt Curs
____________________________
Ch SqCh Lakeland's Lucy
SqCh Lakeland's Goldie
SqCh Lakeland's Kate
____________________________
Beagles
____________________________
Dual GrCh Blank's Midnight
GrCh HBCh Lakeland's Cricket II

_______________________________
Last edited by Lakeland Kennel on 11-29-2012 at 01:51 PM