Okie Hunter
UKC Forum Member


Registered: Jan 2012
Location: Mounds, Oklahoma
Posts: 1069
Really good blood on an English x Walker cross :)
This should be an amazing cross, but first, let me tell you how it came about.

I have a young English redtick male and sent him to a training pen to get him started. While there, he bred a Walker female resulting in four pups. These pups will not be sold until the DNA has come back from the registries verifying my English male as the sire of the pups. The mother is owned by Dale Holt and is a very nice looking young female with incredible breeding. It will be interesting to see how the Georgia Cyclone/Wipeout blood crosses with the Main Street Roy line on this cross. Dale's gyp had two males and two females. Dale already has deposits, pending the DNA results, on the two females. However, the two males are available for $350. They will be UKC and PKC registered and PKC Super Stakes eligible. Here is the bloodline on the pups:

*******GR CH GR NITE CH PKC CH Clear Creek Cadillac Jack
*****GR NITE CH PKC CH Plus Point Blue Boy Bruiser
*******CH GR NITE CH '95 UKC World CH English Female Wells' Little Patch
***Plus Point Odin The Red
*******GR CH GR NITE CH PKC Gold CH Main Street Roy
*****GR NITE CH PKC CH Turman Creek Little Red
*******GR NITE CH Mason Turman Creek Smokey
Pups born 11/01/2015 Two males available @ $350 each UKC/PKC registered and PKC Super Stakes eligible
*******PKC Platinum CH American Express (PKC winnings $52,737)
*****PKC CH Big Shot of A E (PKC winnings $3,004)
*******PKC Gold CH Harper Valley Gander (PKC winnings $11,405)
***Canadian River DC
*******PKC Platinum CH Wipeout Zeb 3 (PKC winnings $63,414)
*****PKC CH Wipeout Fuzz (full sister to Wipeout Jesse Jane and Thousand Dollar Bill)
*******PKC CH Georgia Cyclone (PKC pup earnings for Clone pups exceed $300,000 dollars!)

I do not have the UKC papers for DC (which is the abbreviation for "Double Clone") so I cannot give the UKC titles in the above pedigree, but I do know that some were hunted and titled in UKC in addition to the tremendous success they've had in PKC events. Dale just sent the DNA to PKC for these pups. They will be available for pickup after the results come back to insure the parentage.

I have seen the pups myself. Both females are redtick while one of the males is going to be more of a tri-colored pup. The last male took after the female's side as he is going to look like a Walker dog with little or no ticking on him. Dale wants them to go to competition hunters and is spending the extra money in registration fees/DNA testing so they will be eligible to hunt in all the big puppy/truck hunts. Although not a planned mating, any serious competition hunter has to love how the two bloodlines match up with this cross. They should make good hounds as both the sire and dam were naturals and will be put in the hunts this coming Spring and Summer.

Please call Dale Holt for more information or to get your name on the list for one of the males that are available. I do not own the litter, but told Dale I would help him find good homes for the pups. Dale's number is (918) 223-5373.

Here is a pic of the sire taken last Spring. He has filled out a lot since this photo was taken.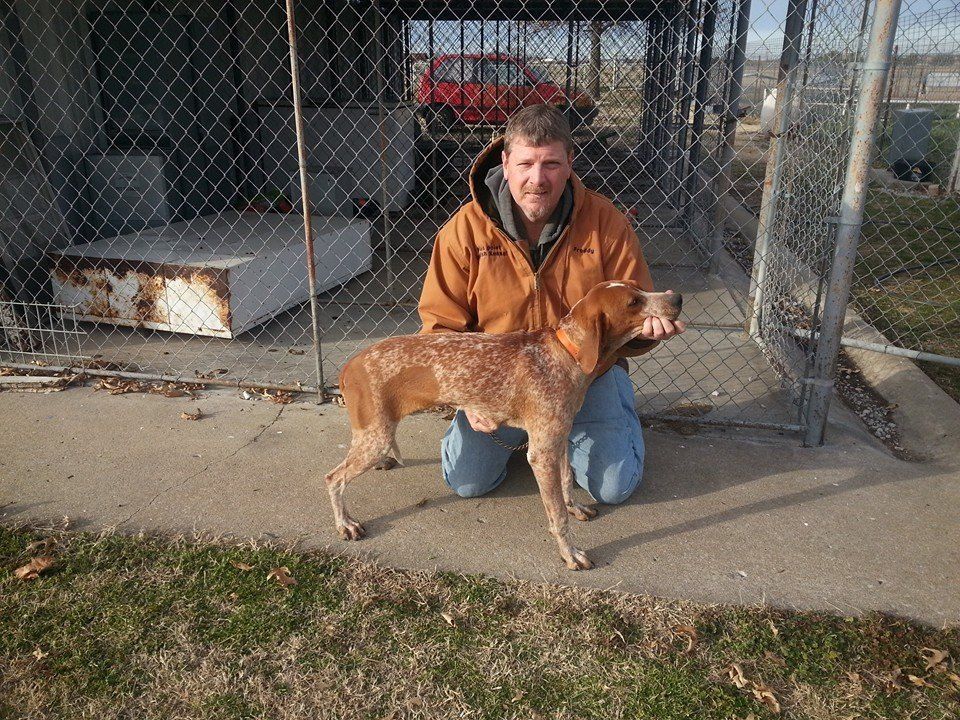 __________________
Freddy Wells
Plus Point English
Mounds, Oklahoma

Home of:
UKC DUAL GR CH PKC CH CHKC Money Winner ALL GRAND YOGI (GR NITE CH MOORE'S HARDTIME ALL GRAND HORN x DUAL GR CH ENGLISHPRIDE'S LITTLE LIZ) 2017 UKC Performance and PKC Super Stakes Sire

UKC DUAL GR CH TREE ROCKN NELLY (DUAL GR CH PKC GOLD CH MAIN STREET ROY X GR NITE CH PKC CH INDIAN RIDGE CINDY) Littermate sister to 2013 UKC WORLD CH GR NITE CH MAIN STREET JOHN THE BAPTIST

PLUS POINT ZINGO (DUAL GRAND CH '98 ENGLISH HALL OF FAME WILCOX THUNDER BINGO semen X CH NITE CH CLONES FRONT PAGE) The only living direct son of Bingo alive today!

Gone but not forgotten:

UKC GR NITE CH PKC CH PLUS POINT BLUE BOY BRUISER (66 "canes" stored at OnceFrozen) Direct son of DUAL GR CH PKC CH CLEAR CREEK CADILLAC JACK x CH GR NITE CH '95 UKC World Hunt High Scoring English Female WELLS' LITTLE PATCH

CH GR NITE CH WELLS' LITTLE PATCH (High Scoring English Female 1995 UKC World Hunt) Direct Daughter of GR NITE CH PKC GOLD CH DARON'S BLUE REB (LUMIS) x GR NITE CH PKC GOLD CH ACHA WORLD CH BUFFALO CREEK PATCH

GR NITE CH PKC CH CLEAR CREEK MISSY II (Sister to Dual Grand Clear Creek Cadillac Jack and mother of ACHA World Champion PKC Silver CH Raef's Dollar Bill)
Last edited by Okie Hunter on 02-22-2016 at 08:08 PM