Toad Hill
UKC Forum Member


Registered: Jun 2014
Location: missouri
Posts: 1062
RARE PUPS>>> ***** Lone Survivor X Bingo Star *****
This ad is for those who don't already know of it's existence. Majority of this litter has already been spoken for via word of mouth, however I'm gonna take deposits for 2 more pups only.
Proven reproducers top & bottom!!!
Loners Grandma Punkin is a half sister to Michigan Swamprooster .
Star herself is a >>> half sister to Raffles Billie Jo !!
Billie Jo is Swamproosters mom.
Do your homework here guys, look closely at the pedigree below.
It's been a longgggg time since our breed as seen this good old blood blended like this !!!
I believe a pup from this cross can/could be very beneficial to your own breeding program in the future .
Litter will be SuperStaked.

Rowdy meets Bingo UP CLOSE !!!!!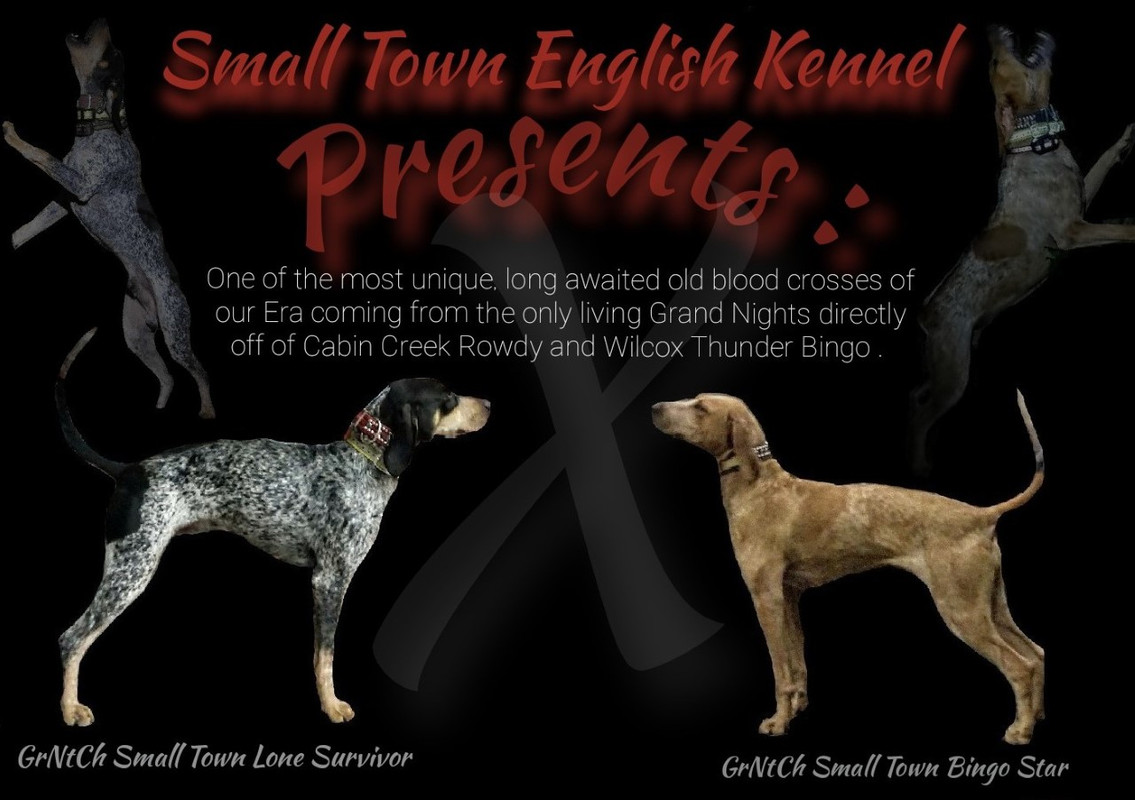 __________________
<<< SMALL TOWN ENGLISH KENNELS >>>

* GRNTCH CH LONESOME DOVE LORI ( 2018 UKC World top 25 ) World Qualified 3 years straight [ double bred , 2X WLD CH Eng Fem GRNTCH Backroads Rosie bred]

* GRNTCH CH SMALL TOWN BINGO STAR DNA-VIP ( 2019 Winter Classic 2nd place ) [ HOF GRNTCH Wilcox Thunder Bingo X Dual Grand Tree Rockin' Nelly ]
(( Star is the Dam to 2021 Southern Eng Days High Scoring Male & Overall Winner ))

* GRNTCH CH SMALL TOWN LONE SURVIVOR "LONER" DNA-VIP
-English Days 2020 - 3rd place Fri / High Scoring male & 1st place Sat night
-2021 UKC World TOP 100
-2022 TOC Qualified
[ GRNTCH Cabin Creek Rowdy semen X GRNTCH CH Lonesome Dove Lori ]
----- Chilled semen available, 700 million+ total sperm per collection sent - certified, documented & guaranteed !! -----

- Live breeding doesn't dictate the future success of a puppy any more than a frozen breeding does.

+ I am the Wretch the song refers to
Last edited by Toad Hill on 01-28-2022 at 06:46 PM