mark nethery
UKC Forum Member


Registered: Mar 2013
Location: Bloomington,ind
Posts: 460
GrNtch Stylish Hammer
I want to introduce you to my young GrNtch male Stylish Hammer His sire is World champ Duel Grand Trick Magic. I believe he will carry on this bloodline with style and Ability. He is Double Sacket jr top and bottom. On top thur Rock River Sue she was the mother of Rachel and Shena and a full litter mate to Rat Attack. And on bottom thur Rat Attack And double Tar Hill Nitro he was sire of both Son and Ruby!
Hammer is a fun hound to hunt opens on track with big bawl mouth has a killer locate and hard loud treedog that has his coons. He won his nt ch cast in winter with leaves off qualifying for Lee Crawford hunt last winter.
He has one litter on ground and they are treeing at very young age.
Hammer will be 2019 ukc preformance sire and stud fee will go to super stake the litter until I see if I get any response on him. He come from a proven cross and I have several reference on him.I want to thank my good friend Mike Wilson for selling me Hammer.
Hammer will be bred to my GrNtch Wicked Witch female in at first of year. Pup will be super staked and preformance 300$.
Stud fee 200$ applied to super stakes for now
Call or text me if no answer please leave message I will return your call
812-276-6123. Thanks for reading my ad and good hunting to all!
Mark.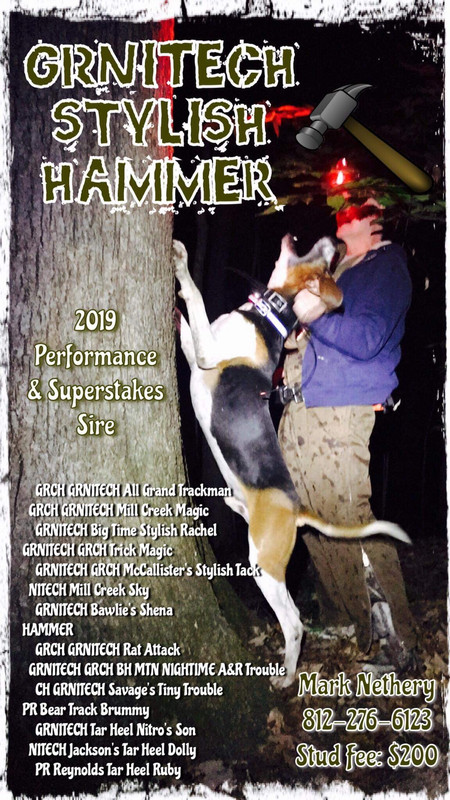 __________________
Nethery's Treeing Walkers.
Since 1977. Springville Ind
812-276-6123
Home off
Hammer sold to Mike Wilison
At stud.
GRNTCH Pr. STYLISH HAMMER 🔨 2018 Lee Crawford qualified (ACHA WC GrNtch Grch Trick Magic x Pr Bear Track Brummy..Rat Attack an Tar hill Nitro

Double Trick Magic Major ( Grntch Magic Mike x Grntch Trick Magic Trudy)

Nethery's Kentucky River Sadie ( Wch GrCh Red Eagle Coming 2 your city x Ch Coal Creek Classy Cree)


Nethery's Stylish Sissy ( Grnitech Stylish Hammer X. Nethery's Magical Lucky Charm. Double Trick Magic)








Grntch Stylish Hammer is a 2019 UKC preformance sire. DNA profile in UKC and PKC see stud dog page for ad on GrNtch Stylish Hammer 👍🇺🇸
Last edited by mark nethery on 04-05-2019 at 12:07 AM