Nick B
UKC Forum Member


Registered: Jan 2019
Location: Memphis, TN
Posts: 109
Baby Cate's Jolene Training log
I wanted to start this thread about my daughter's bluetick and our efforts to train her. I enjoy reading Blueticker's hunt report thread, so hopefully y'all wlll enjoy these training and hunting reports.

My coon hunting background: Almost none, but I've always wanted to. Before last year, i had only been coon hunting a few times, and the most recent was about 15 years ago. My family got a four year old walker from a local shelter as a pet in the spring of 2018. I showed him a caged coon, he was curious and calmly sniffed it until it hissed at him. He then went nuts. The first time I turned him loose in the small patch of woods behind the house, he treed two in the same tree. It's always that easy, right?

I started taking my kids out with me. Ages 7, 6, 4, and 2 (doesn't go much) at the time. We all had fun. I ordered Coonhound Bloodlines and my oldest daughter decided she needed to be in the magazine with our dog. She wanted to be in Bench Shows. I wanted another dog, and convinced my wife we need to get our oldest daughter a puppy for her 8th birthday. Back in February, we got her a Bluetick puppy from Josh Ratliff out of Buck Jr x Rivers, born in November '18. We named her Jolene.

Training so far has consisted mostly of basic obedience training. Also, my daughter works with her regularly on the bench for a few minutes at a time, that's about all the time her attention span can take. I help some. We don't know what we're doing. We just try to get her to pose like the dogs in the magazines. I've read the Walk with Wick books and have been trying to follow his advice. We took her to the woods to run a few times, but never at night. I didn't want to introduce her to coons or hunting until she was at least 10 months. When it they time rolled around, it was still blazing hot, so I waited until it cooled of a few weeks ago to show her a caged coon. When it hissed it, she started bawling (different than I had ever heard her do before), and treed on it when I raised it up in a tree. I let my walker come in and tree, so they could get used to do it that together. I tied them back and turned the coon loose. It ran about 40 yards to a big tree, ran up four feet, ran around the tree, and jumped off. It then went about 50 yards and ran up another big tree. The dogs couldn't see it from where they were. I cut them loose, and they started tree on the first tree. I pushed them off and told to keep going. Jolene found the correct tree first, and was actively smelling it and looking up, but not treeing. Shortly after that, the walker came in and started treeing, then Jolene joined in.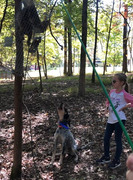 I took her hunting with my uncle, his dog, and my other dog. She was not overly interested in what they were doing. She came into a couple of the trees we made, but didn't get too excited. Of course, we didn't see any coons, either. We blamed the leaves. She opened on a track of some kind a couple times and worked it a ways, but the other dogs were never interested in whatever it was. She did get out around 600 yards by herself. She's not afraid to "get some yonder".
The next trip, I took just Jolene with my oldest and my son, 7. She got about 200 yards from us and struck, she worked it about 150 yards and treed. Of course it was across a big ditch with steed sides. By the time I got across with the kids, she had moved on. Friday night, I took both dogs out with my oldest and the 5 year old. We went to public land I've never been to before. It was mostly flooded timber, except for the walking trail through the middle. In one area the dogs were very excited but somewhat reluctant to get out in the water too far. There was a thin layer of ice on top in most places. They would strike, and kind of want to tree, then move on. They come back to that spot later and get a little further out, then leave again. My walker hates water. He'll go through it reluctantly, but will work hard to stay dry. Jolene was definitely getting out more into the timber, and the third time they came back to this area, she went out furthest and started treeing, then then walker worked up his courage to join her. I made my to them and they were treeing on a big cypress that was broken off about 20' up, and appeared to be hollowed out up there. I'll take that for progress. We plan to hunt her by herself most of the time.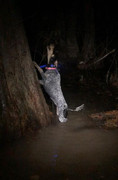 My daughter has put her in several bench shows, and she is now a Champion. My daughter is dying to enter Nite Hunts, so I'm sure we'll be doing that some when they're both ready.