thecoondawg76
UKC Forum Member


Registered: Nov 2007
Location: SW Arkansas
Posts: 1075
Treed!
Well the wife seen a coon cross the road near the house so I figured I'd load up Daisy and Kitty and just give it a wirl. Well Kitty took off on it got treed in pretty deep, around 600 yards, on a den. Daisy hit a lay up right as Kitty got treed though and treed with the meat off of no track at all. On my way to Kitty I could tell she was smelling something in the air but was more worried about Kitty becuase she was deeper. Well by the time I got near Kitty, Daisy pulled up treed herself.
Not bad considering she hasn't been out in about 6 months and only two times in the last 1 1/2 or so. I had to all but beat her to get her back in the pen. It's truely crazy how natural this hound is and the drive to hunt she has when she's only been to the woods around 30 times now, in several years. Of course with my neck I couldn't hardly move the next day and the pills made me get all kinds of lost while I was in the woods. I thought I was going to have to have my wife come get me until the dogs got treed so I had a fixed point to go towards.

I followed a trail I made from then on. Here's Daisy treed in the thicket. There really wasn't a tree to tree on as she was treeing in a bunch of vines between two trees rock solid until I got to her. Notice there's no leash holding her there. She's stuck when she trees.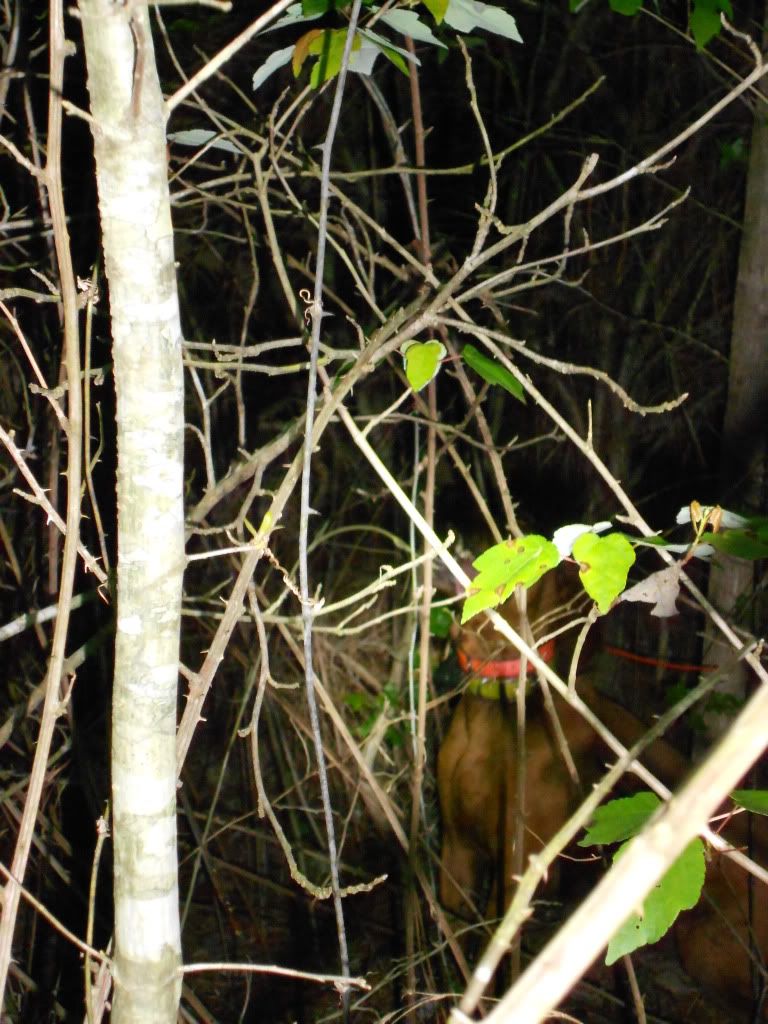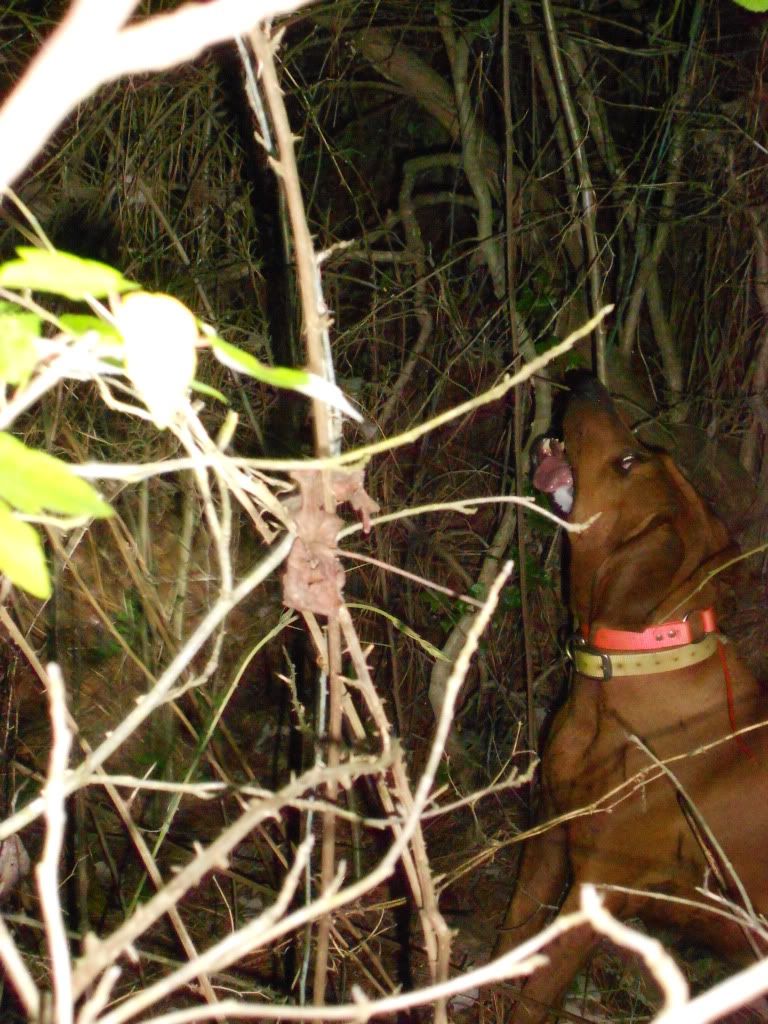 __________________
Home of where the Heaviest Fireball bred hounds there are come from.
And the closest ones alive to GrNtCh Oklahoma Twister (the #1 reproducing son of Fireball) and GrNtCh Yellow River Rocky (the #2 reproducing son of Fireball) . Thanks to alot of help from my friends.

Home of:.

(Qualified for the 2011 World Hunt) NtCh. 'PR'Swann's Lonesome Red Music/ Kitty (NtCh.Twister's Musical Red Huey x NtCh. Sawblade Red Reckon)

GrCh. 'PR' Atomic Fireball's Little Daisy RIP (Qualified for the 2010 World Show).

'PR' Atomic Fireball's Harry Lady (GrNtCh. Barnyard Horse Harry x GrCh Daisy (Highest Blooded Fireball Female Alive)

'PR' Atomic Fireball's Quick Lil Ann (Ch. Dozer (A nice Bear Hound from Coondog stock) x NtCh Swann's Lonesome Music)

'PR' Atomic Fireball's Red River (Daisy x Brown's Oklahoma Twister) RIP (heatstroke)


And First sons of the Old GrNtCh #7 Historical Reproducer Brown's Okl. Twister (the #1 Producing Son of Fireball) in 14 years..


http://atomicfireballkennels.webs.com/
http://forums.ukcdogs.com/showthrea...threadid=341228
Steve Bell
Last edited by thecoondawg76 on 04-16-2012 at 03:28 PM