UKC Forums (http://forums.ukcdogs.com/index.php)
- UKC Coonhounds (http://forums.ukcdogs.com/forumdisplay.php?forumid=4)
-- Cage coon and young dogs (http://forums.ukcdogs.com/showthread.php?threadid=437448)
---
Posted by Lee Stocking on 07-10-2011 10:20 PM:
Cage coon and young dogs
I know most people show cage coon to dogs. I do show the cage to a young dog 1 time only just to see their temperment towards the coon, other wise it prooves nothing to me. I never seen a dog benefit for showing caged coon multiple times. If you show more than once why?

Also when we turn coon loose in front of the dogs, most dogs cant run the track. So why do it? The only thing that matters is how they tree coon in the wild.

I dont think showing cage coon or turning coon loose helps. What are your thoughs and how do you train?
__________________
Tan
GRNTCH PKC CH Coble & Stocking's Troubadour (Troubles) or (Trubs)

NTCH PKCSilverCH Coble & Stocking's Swamp Rat Poison
Black & Tan
---
Posted by hillbilly56 on 07-10-2011 10:33 PM:
cagedcoon
showing a caged coon to a pup will show you if pup has any interst in a coon if it shows any interst i put the cage up a tree see if it has any interst in treeing if you let a coon out in front of pup if it runs after it and trees it dont show it anymore coons you can catch them and turn them loose then take the pup to the spot after a few mins see if it has any interst trying to trail using its nose to many caged coons imo can screw a young dog up jmo
---
Posted by Bluedogman on 07-11-2011 12:23 AM:
I agree with you! There is no need for it IMO.
__________________
Johnny Williams
---
Posted by GA DAWG on 07-11-2011 12:43 AM:
I have a young dog here. She's treed a good many coon. I decided to show her one the other day from the sweet corn patch. She wouldn't even bark at it lol. She's only ever had one knocked out to her. I do wish the season would get here though. I think she would improve greatly with a little more fur. Not many. Just 4 or 5.
__________________
Michael Ghorley
---
Posted by Dirtdevil on 07-11-2011 02:34 AM:
They don't need to see it for sure , and you don't wanna to turn into nuts because they think every time you mess with them there is a caged coon around or every sack of groceries they see you carry might have a coon in it .


But , it's hard to beat turning a coon loose down a creek somewhere and going back to get pups til' they can run and tree them every time ... and it's the most sure fire way to test their nose.


Nothing you do right can be done too much .... you just gotta make the effort to keep things as natural and challenging as you can ....
---
Posted by Bluedog65775 on 07-11-2011 03:09 AM:
Cage coon
a little bit goes a long way.Learned that the hard way.
__________________
GRNITECH GRCH 'PR' Stewarts Natural Okie Reb (01/12/2010 - 03/13/2014)
NITECH GRCH 'PR' Stewarts Smokey River GI Jane
---
Posted by DISON on 07-11-2011 03:54 AM:
i have a 8 1/2 month old pup. I took him out for about too weeks in a row but. Never showed him a coon or a hide. But he has had a tail when he was a few weeks old. He has never layed up on tree. But he has tracked and is a independent dog. He was 853 yard according to the tracker and with no other dog. He opend up on track too a coon we seen run acrosed the road. But got so far and braked like 7 times. So any of u guys have any advise to help tree. I would sure appiricate it.
---
Posted by Lee Stocking on 07-11-2011 05:20 AM:
Dison,,,,,,they either got it or they dont IMO. At 9 mos old your dog could still put it together. When they reach 12 mos old and havent put it together yet I worry IE want to kill them and do. I like all breeds.

What I really cant stand is those that want to kill coon to a dog what wont tree. That dont work.

The natural dogs you dont have to pull all those tricks to get them treeing. No cage coons, no turning coon loose then going back to turn the hounds loose no roll cage just pack them to the woods.
Im just creating talk

__________________
Tan
GRNTCH PKC CH Coble & Stocking's Troubadour (Troubles) or (Trubs)

NTCH PKCSilverCH Coble & Stocking's Swamp Rat Poison
Black & Tan
---
Posted by Nat Thomas on 07-11-2011 05:43 AM:
I agree with Lee. They either have it or they don't. I don't see the point of a dog barking at a coon in a cage. They aren't catch dogs and they don't bay them. Quit messing with cages and take em hunting!
---
Posted by Lowell Lynn on 07-11-2011 07:27 AM:
wow......
__________________
Let the man or woman who has set themselves above others as faultless,and so decreed that they are perfected specimens of humanity,Now stand before a faultless God and explain how they came to be his equal. This from the mind of Lowell Lynn Jr.
---
Posted by G L Weller on 07-11-2011 11:58 AM:
My belief is you breed dogs to track and tree, not train them. I have no use for a caged coon and have seen many good prospects screwed up with a caged coon. I see no reason that showing a pup a caged coon would hurt anything if you only do it one time for no longer than one minute but most people get carried away and do it over and over for long periods of time until the pup is either crazy over it or bored with it. Either way crazy or bored itís not good and not necessary. A good pup born with the desire to track and tree will start tracking and treeing at a young age if given the chance and all the caged coons in the world wonít help if the pup donít have what it takes, no matter what breeding the pup is or what the sire and dam could do some pups just donít have it. Using a caged coon wonít make a bad pup good but it sure can make a good pup bad in a hurry.
__________________
Yadkin River Ti'll I Die
---
Posted by Dirtdevil on 07-11-2011 01:39 PM:
As with most discussions , everyone is right in some way ... just doesn't always come out right or whatever .....

I doubt anyone thinks that pups need to see and fight caged coon over and over to become good dogs or that we can train a piece of junk.


For me , I don't like to start pups with old dogs or just take a young dog to the woods and hope to find a coon .

I'd rather turn a coon loose down a creek and then come back with a pup and get them started hunting , working older tracks and build confidence than any other way.

I don't see the point in hunting pups with older dogs myself ... it's the same thing ... if the pup can't find an tree his own , then what's the point.

But folks that don't turn coon loose will let their young dogs trail the old ones ....

If the dogs don't see the cage and have to work to find where you let him go and you give the coon a head start by 15-30 minutes .... I don't think it's ever gonna harm them or will they know it came from a cage.
---
Posted by Rip on 07-11-2011 02:29 PM:
Lee, I never had one that couldn't run a turn loose coon, that's a first for me.

I don't use a caged coon. I have just seen too many dogs that wouldn't even look at a caged coon tree the fire out of wild ones to make a cage coon part of my training.

However, if I have a young dog that needs more confidence on a colder track I will start out by giving it a turn loose coon that will be smokin hot when it trees so they know it's there and give it plenty of praise when it trees the turn loose coon. That way I have set him/her up to make a hot tree, one they have confidence in, and gave them plenty of praise. I've never had to do that more than once or twice.

I've done like Dirt Devil, when relocating a coon why waste a good chance to see how old a track your young dog can handle? Take it, turn it loose where you are relocating the coon to and leave. Take the dog through there 30 minutes, an hour, two hours whatever you think the dog can handle and see if it can. They never seen the coon or the cage and that way IMO it's no different than a wild coon aside from the fact that it will probably go up a tree quick since it's not at "home" any more.
__________________
Let's go huntin

http://beecreekcoonhounds.homestead.com
---
Posted by K. Singletary on 07-11-2011 02:59 PM:
I don't use a cage coon, but I do turn loose coons. IMO turning a coon loose is the only 100% way you can get your pup on a hot track and know for sure what they are on.
__________________
Kenny's Allnite Black and Tans
Eutawville, SC
803-492-9570
GrNtCh Allnite Smokin' Tank
NtCh First Class Ragin' Roxie
---
Posted by Lee Stocking on 07-11-2011 06:28 PM:
quote:

---

Originally posted by Lowell Lynn
wow......

---


wow What? yall are welcome to join in.

__________________
Tan
GRNTCH PKC CH Coble & Stocking's Troubadour (Troubles) or (Trubs)

NTCH PKCSilverCH Coble & Stocking's Swamp Rat Poison
Black & Tan
---
Posted by RatDog on 07-12-2011 03:15 AM:
What about hunting pups off feeders?
__________________
TEAM HOGBACK MAFIA
---
Posted by WHITEBREAD on 07-12-2011 03:21 AM:
ive shown pups coon then onto trees matbe every once in a blue moon will let one run out of cage in front of them but only after i drench the coon with water to leave a good scent for a young dog i dont just let them run it as soonn as i release it but i dont do this often
__________________
BREADS BLUE BOMBERS


JOHN JONES
813-770-5841
FLORIDA BOY COON HUNT-N
---
Posted by dmbaker3 on 07-14-2011 10:30 PM:
Now Mr Weller, your not suppose to be giving away all these top secret tips. Haven't you seen the Bush's Baked Beans commercials. Dang dog gives away all the secrets.All jokes aside I totally agree. I like to observe a pup for a while, depending on the pup, depends on what I do. If you pay attention, the pup will tell you what he or she needs, but never over do it. JMO
__________________
The worth of a dog is not his title,but rather the way he carries himself in and on the timber.
---
Posted by longshot on 07-14-2011 10:43 PM:
Must be a slow day at work Lee.



IMO a cage coon or two won't hurt, but it should stop there.

I run mine through the coon tube , once , maybe twice , thats it . No more.

The only thing worse than cage coons done over and over is Hang ups.. Hang up have set more dogs back than about anything else because they learn to tree by SIGHT. Then they don't want to tree by scent anymore.

Here's the coon tube I use , usually only one time or twice at most. I sure didn't invent it, but it has worked for me to start pups around 5- 6 months old.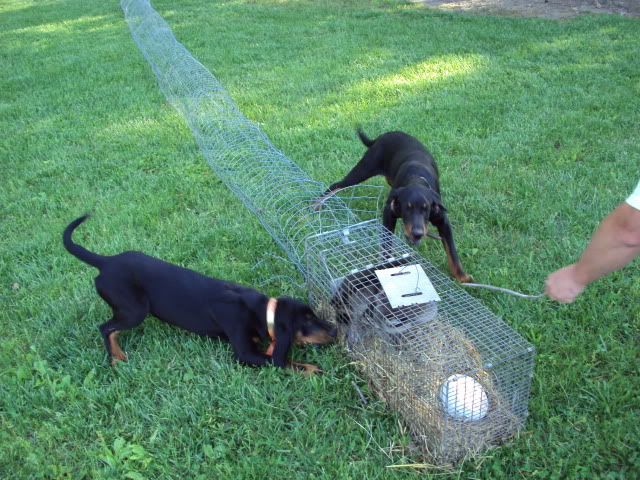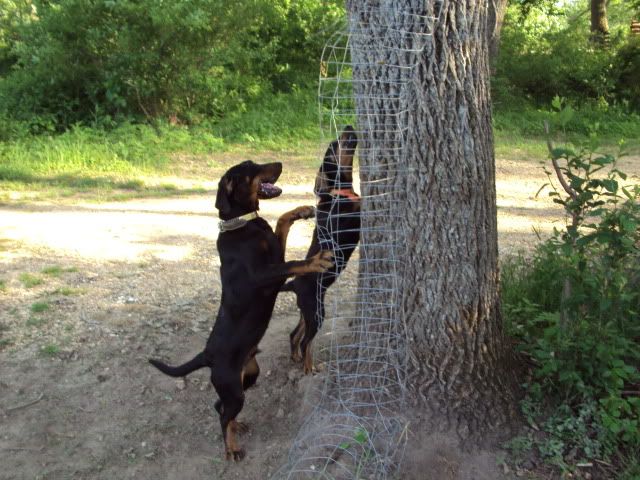 __________________


Mark Reavis
Southwest Missouri
Dual Grand Champion Super Sambo
---
Powered by: vBulletin Version 2.3.0
Copyright © Jelsoft Enterprises Limited 2000 - 2002.
Copyright 2003-2014, United Kennel Club, Inc.