UKC Forums (http://forums.ukcdogs.com/index.php)
- UKC Coonhounds (http://forums.ukcdogs.com/forumdisplay.php?forumid=4)
-- 2023 RQE Results (http://forums.ukcdogs.com/showthread.php?threadid=928549035)
---
Posted by Trevor / UKC on 12-05-2022 05:31 PM:
2023 RQE Results
As I've done for the past couple years, I will be tracking dogs qualified for the 2023 Coonhound World Championship in this thread by posting plus point cast winners and category winners from this year's RQE events. Stay tuned as they start to roll in.

Remember, there are some events that are Bench Show only, some that are Nite Hunt only, and some that do both. For a list of tentative qualifier dates, go here: https://www.ukcdogs.com/rqe

Be sure to check the events calendar for final details.
---
Posted by Trevor / UKC on 12-05-2022 05:34 PM:
Wayne County Coon Hunters Association Inc
December 3, 2022
Milton, IN
Bench Show only

Bench Show Results
BSJ – Beth Jenkins
37 Entries

GRCH Male – CCH GRCH(2) 'PR' Southern All American Ruger, TW, Tiffany Adkins, Mark Adkins, WV
GRCH Female – GRCH(3) 'PR' Rockin W's Blue Cover Girl, BLU, Angela Cable, Jaxon Cable, IN
CH Male – CH 'PR' Stn Nickel Love the Way U Lie, RED, Mary Bergbauer, Rodney Bergbauer, IN
CH Female – CH 'PR' Mason Dixon She's a Lil Sassy, TW, Joe Moore, Kelly Myers, PA
BMOS – 'PR' Stackemup Luck Is Believing, ALH, Abby Weber, Tricia Snedegar, OH
BFOS – 'PR' Sassy Snip, TW, Pete Schwinn, Shirley Schwinn, IN
---
Posted by Trevor / UKC on 01-17-2023 01:43 PM:
Pascagoula River Coonhunters Association
January 14, 2023
Lucedale, MS

Nite Hunt Results
MOH – Wesley Ratcliff
22 Entries

1st – 'PR' Big Money's Penny, TW, RT Green, Terril Green, Tyler Green, MS, 400+
2nd – GRNITECH 'PR' Misty River Shadows' Blue Pearl, BLU, Jeremy Purvis, Scott Vandenheuvel, MS, 275+
3rd – NITECH 'PR' Gas Money, TW, Daniel Allen, AL, 225+

Bench Show Results
BSJ – Wesley Ratcliff
4 Entries

GRCH Female – GRCH 'PR' Dead Creek Blue Becky, BLU, Andrew Backstrom, MS
CH Male – CH 'PR' Britten's Bo, BLU, Johnathan Britten, MS
CH Female – CH 'PR' Britten's Maggie, BLU, Johnathan Britten, MS
BFOS - 'PR' Big Money's Penny, TW, RT Green, Terril Green, Tyler Green, MS
---
Posted by Trevor / UKC on 01-23-2023 01:54 PM:
Sampson County Coonhunters Association
January 21, 2023
Clinton, NC

Nite Hunt Results
MOH – Jeffrey Robinson
16 Entries

1st – 'PR' Taylors Turkey Swamp Long Ranger, TW, Josh Taylor, Eddie Taylor, NC, 225+
2nd – NITECH 'PR' You Killing Me Smalls, TW, Rod Vinson, NC, 225+

Bench Show Results
BSJ - Jeffrey Robinson
7 Entries

GRCH Female – GRCH 'PR' Lane's Hardtime Bonnie, ENG, Royce Lane, NC
CH Male – CH 'PR' Lane's Hardtime Cowboy, ENG, Royce Lane, NC
BMOS – 'PR' Candys Royal King, RED, Candace Kunze, UT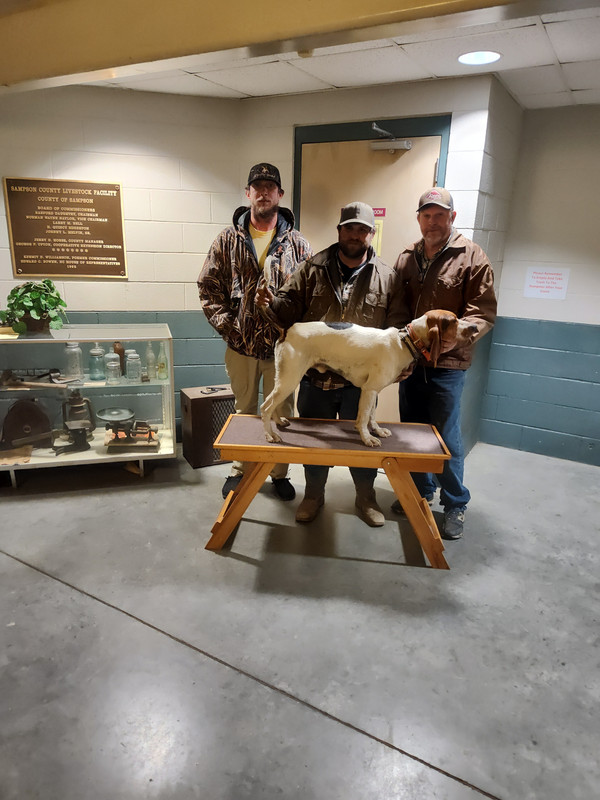 1st Place - Ranger
---
Posted by Trevor / UKC on 01-23-2023 05:11 PM:
South Carolina Hall of Fame Hunt and Show
January 21, 2023
Manning, SC

Nite Hunt Results
MOH – William Conrad
58 Entries

1st - 'PR' Whacked Out Krook, TW, Hunter Grooms, SC, 850+
2nd - GRNITECH(2) 'PR' High Mountain Mattie, TW, Jack Martin, Michael Barkley, SC, 650+
3rd - GRNITECH 'PR' Bones Big Zeus, TW, John Brunson III, SC, 650+
4th - NITECH 'PR' Lockdown Hurricane, TW, Chris Holmes, SC, 600+
5th - GRNITECH(3) CH 'PR' Carolina Blues Diesel, BLU, Steven Cromer, SC, 425+
6th - GRNITECH(2) 'PR' Roberts Backwoods Quinn, TW, Jason Roberts, SC, 225+
7th - 'PR' Tennessee Country Hammer, TW, David Dutter, Terry Ward, NC, 200+
8th - 'PR' Brown's Myrtle, TW, Eric Brown, Kourtney, Brown, SC, 200+
9th - CH GRNITECH 'PR' Turners Harley Spending Money HTX, TW, JT Turner, SC, 200+
10th - GRNITECH 'PR' Stone's Big Time Dolly, TW, John David Stone, VA, 150+
11th - 'PR' Lockdown Lucy, TW, Edward Garvon, SC, 150+
12th - 'PR' Flatrock Project X, TW, Christopher Timmons, SC, 150+
13th - GRNITECH(2) 'PR' Slones Hard Rock Lil, TW, Sam Drain, SC, 50+
14th - CH 'PR' STK Lone Pine Bad News Kate, TW, William Brooks Jr, Lavena Jenkins, GA, 25+

Bench Show Results
BSJ – William Conrad
9 Entries

GRCH Male – GRCH(3) 'PR' Dry Creek Mr. Rhyt Now, TW, Raeven Hunt, Jennifer Hunt, NC
GRCH Female – EGCH GRCH(4) 'PR' Second Winds Sexy in Silk, TW, Beth Jenkins, VA
CH Male – CH 'PR' Chrissys Rip Em Up Rowdy, TW, Chrissy Johnson, SC
BMOS – 'PR' Tomahawk TD424 Hammering Joe, TW, Elijah Matthew Harmon, SC
BFOS – 'PR' Zena Warrior Princess, PLT, John Sapier, SC



1st Place - Krook
---
Posted by Trevor / UKC on 02-03-2023 05:55 PM:
Black Creek Coon Club
January 14, 2023
Darlington, SC

Nite Hunt Results
MOH – Dennis Gardner
9 Entries

1st – 'PR' Reaves' Honeymoon, TW, Mike Reaves, Randall Coleman, SC, 475+
2nd – 'PR' Neat Whiskey Wilma, TW, Michael Reaves, SC, 150+

Bench Show Results
BSJ - Dennis Gardner
2 Entries

BMOS – 'PR' Midnite Blazin Beau, TW, Jennifer LeJeune, Jeffrey VanNort, SC
---
Posted by Trevor / UKC on 02-03-2023 06:09 PM:
Toisnot Swamp Coonhunters Association Inc
January 14, 2023
Wilson, NC

Nite Hunt Results
MOH – Pat Baggett
21 Entries

1st – CH GRNITECH 'PR' Tar Rivers Bavarian Jager HTX2, RED, Adrian Strickland, NC, 375+
2nd – NITECH 'PR' Harris Hills Choppin' Chip, ENG, Jason Harris, Matthew Peaden, Bobby Harris, NC, 375+
3rd – NITECH 'PR' Smiths Nightshift Ryder, ENG, Cedric Smith, Greg Smith, NC, 225+
4th – GRNITECH 'PR' River Bend Out On Parole, TW, Andy House, NC, 225+
5th – 'PR' Will's Ice Cold Down & Dirty Annie, BLU, Will Newbold, NC, 75+

Bench Show Results
BSJ – Terry Williams
12 Entries

GRCH Male – GRCH(3) 'PR' Dry Creek Mr. Rhyt Now, TW, Raeven Hunt, Jennifer Hunt, NC
GRCH Female – EGCH GRCH(4) 'PR' Second Winds Sexy In Silk, TW, Beth Jenkins, VA
CH Male – CH 'PR' Michael's First Pick, ENG, Joseph D'Arco, Michael D'Arco, NC
CH Female – CH 'PR' Big Swamp Pearl, TW, Brent Penny, NC
BMOS – 'PR' Hobbs' Hardwood Alabama Hitest, TW, Ryan Hobbs, VA
BFOS – 'PR' Renegades Bitter Cold Bristol, ENG, Kristen Gordon, NC
---
Posted by Trevor / UKC on 02-03-2023 06:28 PM:
Orange County Coon Hunters Association
January 28, 2023
Rapidan, VA

Nite Hunt Results
MOH – Ryan Morris
17 Entries

1st – NITECH 'PR' Flint Ridge Southern Rebel, TW, Larry Mitchell, VA, 425+
2nd – NITECH 'PR' High Point Raven, TW, Elliott Burch, MD, 300+
3rd – 'PR' BT's Slim's Money Sweep, TW, Brendan Tayler, MD, 200+

Bench Show Results
BSJ - Ryan Morris
19 Entries

GRCH Male – GRCH(3) 'PR' Dry Creek Mr. Rhyt Now, TW, Raeven Hunt, Jennifer Hunt, NC
GRCH Female – EGCH GRCH(4) 'PR' Second Winds Sexy in Silk, TW, Beth Jenkins, VA
CH Male – CCH CH 'PR' Cold Harbor Black Silverado, B&T, Curtis Peace, Judith Peace, VA
CH Female – CH 'PR' Ace's Queen of Hearts, TW, Beth Jenkins, Bridgette Clary, VA
BMOS – 'PR' The Intimidator, PLT, Beverly Millage, NC
BFOS – 'PR' Browns Wipeout Dolly, TW, Travis Brown, VA
---
Posted by Trevor / UKC on 02-09-2023 02:55 PM:
Fulton County Coon Hunters Association
January 13, 2023
Leiters Ford, IN

Nite Hunt Results
MOH – Matthew Rogers
44 Entries

1st – NITECH 'PR' G2's Lightfooted Angel, ENG, Storm Hayes, IN, 1075+
2nd – NITECH 'PR' Eagle Lake Mo Jane, TW, Nicholas Hagerman, IN, 775+
3rd – GRNITECH 'PR' Arnett's Whacked Out Lil Libby, TW, Mike Arnett, Maddox Arnett, IN, 525+
4th – NITECH 'PR' $$Black River Lefty$$, B&T, Chad McCoin, Brad Hile, IN, 525+
5th – NITECH 'PR' Manns Creek Rip, TW, Logan Manns, Jacob Manns, IN, 487.5+
6th – CH GRNITECH(2) 'PR' Split Creek Poseidon HTX, ENG, Kayne Taylor, OH, 400+
7th – GRNITECH 'PR' Willy's Insane Scar, TW, JR Gray, Ellis Keen, KY, 350+
8th – 'PR' Keegans Electric Bojo, TW, Jerald Keegan, MI, 350+
9th – Klear Kry Penney's Lou, XB, Jerald Keegan, MI, 250+
10th – GRNITECH 'PR' M/W Crazy Daisy, TW, Adrian Martin, Irvin Weaver, IN, 175+
11th – 'PR' Bitterlings Eustace Clay, TW, Jesse Bitterling, IN, 150+

Bench Show Results
BSJ – Niki Elburn
9 Entries

GRCH Male – CCH GRCH(3) 'PR' Woodz All Blue Black Jack, BLU, Kayde Wood, Brooklyne Wood, Jason Wood, IN
GRCH Female – GRCH 'PR' Woodz Pretty Blue Jewl, BLU, Kayde Wood, Brooklyne Wood, IN
CH Male – CH 'PR' Woodz Keep It a Float, BLU, Kayde Wood, Brooklyne Wood, IN
CH Female – CH 'PR' Schwinn's Annie Up, TW, Pete Schwinn, Shirley Schwinn, IN
BMOS – 'PR' Woodz Just Keep Keepin' On, BLU, Brooklyne Wood, Kayde Wood, IN
BFOS – 'PR' Lost Heritage Teeter, TW, Cole Vanover, Kayde Wood, Kristin Lawless, KY
---
Posted by Trevor / UKC on 02-09-2023 03:02 PM:
Jerry Clower Coon Club
January 20, 2023
Yazoo City, MS

Nite Hunt Results
MOH – Wesley Ratcliff
16 Entries

1st – NITECH 'PR' B&B's Sugar Bear, TW, Robbie Blackwell, Chase Ballard, MS, 650+
2nd – NITECH 'PR' Mississippi River Dixie Lynn, TW, Draven Sullivan, MS, 525+
3rd – NITECH 'PR' Moak's Creek Blue Cricket, BLU, Bobby Gates II, MS, 300+
4th – GRNITECH 'PR' Thunder and Lightning, TW, Steve Sikes, MS, 275+

Bench Show Results

No Entries
---
Posted by Trevor / UKC on 02-09-2023 03:09 PM:
North Florida Coon Hunting Club
January 21, 2023
Providence, FL

Nite Hunt Results
MOH – Bobby Burkett
16 Entries

1st – 'PR' Hometown Black Pearl, TW, Chuck Clytt, 300+
2nd – GRNITECH GRCH 'PR' Sundowns Bad Boy, TW, Dan Knieriem, IN, 150+
3rd – GRNITECH(3) 'PR' Dan River Damper Dan, ENG, William White, Randy Selby, NC, 25+

Bench Show Results
BSJ - Bobby Burkett
10 Entries

GRCH Male - GRNITECH GRCH 'PR' Sundowns Bad Boy, TW, Dan Knieriem, IN
CH Male – CH 'PR' Second Winds Supremo, TW, Janis Hunter, Jason Hunter, FL
CH Female – CH 'PR' Second Winds Indigo Illusion, TW, Janis Hunter, FL
BMOS – 'PR' Downlow Takin Yo Chedda, TW, Jason Hunter, FL
BFOS – 'PR' 2nd Winds Stunning in Stilettos, TW, Janis Hunter, FL
---
Posted by Trevor / UKC on 02-09-2023 03:16 PM:
Duplin County Coon Hunters Association
February 4, 2023
Kenansville, NC

Nite Hunt Results
MOH – Jeffrey Robinson
11 Entries

1st – NITECH 'PR' Harris Swamp's Nickel, TW, Brendan Clemmons, Tyler Clemmons, NC, 225+
2nd – GRNITECH 'PR' It's Dixie's Turn, TW, Rod Vinson, Billy Carter, NC, 100+

Bench Show Results
BSJ - Jeffrey Robinson
5 Entries

GRCH Male – GRCH(3) 'PR' Dry Creek Mr. Rhyt Now, TW, Raeven Hunt, Jennifer Hunt, NC
GRCH Female – EGCH GRCH(4) 'PR' Second Winds Sexy in Silk, TW, Beth Jenkins, VA
CH Male – CH 'PR' Lane's Hardtime Cowboy, ENG, Royce Lane, NC
CH Female – CH CCH 'PR' Mine Creek Amazing Grace, PLT, Rita Mason Ellis, Penny Turner, NC
BMOS – 'PR' Candys Royal King, RED, Candace Kunze, UT
---
Posted by Trevor / UKC on 02-20-2023 07:44 PM:
Sauratown Coonhunters Club Inc
February 18, 2023
Pilot Mountain, NC

Nite Hunt Results
MOH – Charles Reeves
29 Entries

1st – 'PR' Moneys Big Time Drifter, TW, Ron Mitchell, IN, 800+
2nd – NITECH 'PR' Banker's Ellie-Mae, TW, Cody Vaughn, VA, 425+
3rd – GRNITECH(3) 'PR' Ice Cold Dirty Cricket, TW, Chad Manns, WV, 350+
4th – GRNITECH(2) GRCH 'PR' A Dog Named Chicken, TW, Robert Hutchens, Kelley Branon, Larry Wishon, NC, 325+
5th – NITECH 'PR' Coddle Creek Buckshot, ENG, Scott Young, NC, 200+
6th – 'PR' Crooked Hollow Clark, TW, Travis Goad, VA, 200+
7th – GRNITECH 'PR' Sweet Mountain Music, TW, Simon Rucker, VA, 200+
8th – NITECH CH 'PR' Mr. Hyde, TW, Ashley Dalton, WV, 200+

Bench Show Results
BSJ – Charles Reeves
4 Entries

GRCH Male – GRCH(2) CCH 'PR' Skylines Stay In Your Lane, TW, Megan O'Connor, Beth Jenkins, IA
GRCH Female – CCH GRCH(2) 'PR' KY Mtn Cinderella Girl Crush, ENG, Rhonda Brown, Penny Turner, NC
CH Female – CH CCH 'PR' Southeasterns KY Mtn Hearts Desire, ENG, Rhonda Brown, Penny Turner, NC



1st Place - Drifter
---
Posted by Trevor / UKC on 02-28-2023 01:22 PM:
Wilton Rod and Gun Club
February 11, 2023
Wilton, WI

Bench Show Results
BSJ – Dale Sandell
12 Entries
Bench Show Only

GRCH Male – GRFCH WCH CGRCH GRNITECH GRCH(5) 'PR' Psyco Blu Sypder HTX, BLU, Lee Hogan, WI
GRCH Female – FCH WCH GRCH 'PR' Hogan's Trouble, BLU, Lee Hogan, WI
CH Male – WCH CH 'PR' Shaw's Lemonweir River Nitro, TW, Randy Shaw, WI
CH Female – CH 'PR' Umbes Moondog Starlite Cha Cha, BLU, Vicky Unbehaun, Brian Unbehaun, WI
BMOS – 'PR' Lemonweir River Chip, TW, Carol Antone, WI
BFOS – 'PR' Umbes Moondog Midnite Scout, BLU, Vicky Unbehaun, Brian Unbehaun, WI
---
Posted by Trevor / UKC on 02-28-2023 01:26 PM:
Mercer County Coonhunters Association
February 5, 2023
Greenville, PA
Bench Show Only

Bench Show Results
BSJ – Dave Myers
17 Entries

GRCH Male – GRCH 'PR' Misty Hill Walking Tall Mr Walker, TW, Kitty Wolfe, PA
GRCH Female – NITECH GRCH(2) 'PR' Bare to the Bone Ellie HTX, PLT, Keith Pearce, PA
CH Male – CH 'PR' Peters Pinegrove Windiggy Winston, PLT, Cristen Peters, PA
CH Female – CH 'PR' River Running Rein Dance, RED, Jason Shardy, PA
BMOS – 'PR' Southbound Slash-N-Burn, ENG, Hunter Booth, NY
BFOS – CCH 'PR' Badlands Witch, Please, PLT, Katie Swales, Chris Swales, PA
---
Posted by Trevor / UKC on 02-28-2023 01:29 PM:
Morganfork Coonhunters Association
January 28, 2023
Meadville, MS

Nite Hunt Results
MOH – Wesley Ratcliff
7 Entries

1st – 'PR' Homochitto River Shine Again, TW, Kyle James, Chase Ballard, MS, 225+
2nd – 'PR' Solid As a Rock, TW, Morris Anderson, LA, 200+

Bench Show Results

NO ENTRIES
---
Posted by Trevor / UKC on 02-28-2023 01:36 PM:
Lafayette County Coonhunters
January 27, 2023
Stamps, AR

Nite Hunt Results
MOH – Bobby McCarty
27 Entries

1st – CH GRNITECH 'PR' Sulphur Bottom Squaw, TW, Holden Hawkins, TX, 662.5+
2nd – GRNITECH 'PR' Swilley's Blue Rango, BLU, Matthew Swilley, Fletcher Willey, AR, 600+
3rd – 'PR' FFK Fitz's Blue Hondo, BLU, Adam Fitzgerald, SC, 525+
4th – CH GRNITECH(2) 'PR' Rogers Rubys Jewel, ENG, Anita Rogers, Roy Rogers, AR, 475+
5th – NITECH 'PR' Backwater Wiggles Like Sue, TW, Paul Mason, LA, 300+
6th – 'PR' G&C Blue Boogerman, ENG, Aaron Crow, Micah Graves, AR, 225+
7th – NITECH Records Power Bomb, XB, Robert Record, TX, 50+

Bench Show Results
BSJ – Bobby McCarty
3 Entries

GRCH Male – GRNITECH(2) GRCH(2) 'PR' Boo's Break It Off Bandit, B&T, Timothy Cannon, Johnny Cannon, AR
BMOS – 'PR' Panther Creek Bo, TW, Kevin Martin, AR
BFOS – 'PR' Rogers Blue Ruby, BLU, Jonathan Rogers, AR
---
Posted by Trevor / UKC on 02-28-2023 01:39 PM:
Yell County Coonhunters Association
February 4, 2023
Plainview, AR

Nite Hunt Results
MOH – Ronnie Keene
14 Entries

1st – GRNITECH 'PR' Hillbilly Knot, TW, Brent Roberson, AR, 350+
2nd – 'PR' Thunderstruck Mack, TW, Bradley Ellis, AR, 200+
3rd – NITECH 'PR' Uncle Walter, TW, Parker Reece, AR, 25+

Bench Show Results
BSJ – Tim Smith
2 Entries

BMOS - NITECH 'PR' Uncle Walter, TW, Parker Reece, AR
---
Posted by Trevor / UKC on 02-28-2023 01:44 PM:
Greenville County Coonhunters Association
January 28, 2023
Travelers Rest, SC

Nite Hunt Results
MOH – John McKinney
10 Entries

1st – GRNITECH 'PR' Slow Talking Turbo, TW, Michael Simpson, NC, 225+

Bench Show Results
BSJ – Chad Howard
7 Entries

GRCH Female – CCH GRCH(2) 'PR' Skyline's Cry Me a River, RED, Beth Jenkins, VA
CH Male – CH 'PR' Bailey's Creek Sarge, RED, Jennifer Bailey, Bobby Bailey, NC
CH Female – CH 'PR' Melrose Mtn Ocean Breeze, ENG, Lisa Beddingfield, NC
BMOS – 'PR' E&A Snowbird Creek Blue Smoke, BLU, Elijah Alexander, NC
---
Posted by Trevor / UKC on 02-28-2023 01:54 PM:
Texas Black and Tan Coonhunters Association
January 28, 2023
Waelder, TX

Nite Hunt Results
MOH – Kenwood Maeker
15 Entries

1st – 'PR' Bigtex Blue Trip, BLU, Rick Miller, TX, 175+
2nd - 'PR' Hill Tip Lu-E, TW, John David Walpole, Jacque Walpole, TX, 175+
3rd – GRNITECH 'PR' Broke N Famous Tres M, TW, Alejandro Menchaca, TX, 150+

Bench Show Results
BSJ – Monica Dwyer
4 Entries

GRCH Male – NITECH GRCH 'PR' Blackburn's Snuffy II, B&T, James Blackburn, TX
CH Male – CH 'PR' Alberts' Upriver Finley Cloud, TW, Albert Requenez, TX
CH Female – CH 'PR' Blackburns Dolly, B&T, James Blackburn, TX
BFOS – 'PR' Albert's Upriver Black Jetta, B&T, Albert Requenez, TX
---
Posted by Trevor / UKC on 02-28-2023 01:59 PM:
Chesterfield County Coonhunter's Association
February 3, 2023
Patrick, SC

Nite Hunt Results
MOH – Dennis Gardner
20 Entries

1st – NITECH 'PR' High Mtn. Grits, TW, Michael Barkley, Jack Martin, SC, 375+
2nd – GRNITECH 'PR' Late Nite Jodi, TW, Boyce Howle, SC, 225+
3rd – 'PR' Wipeout 3 Breeze, TW, Cody Cook, SC, 225+
4th – 'PR' Cedar Creek Diamond Dolly, B&T, Bennet Tice, SC, 50+

Bench Show Results
BSJ – Dennis Gardner
3 Entries

CH Male – CH 'PR' Byrd's Big Time Jackpot, TW, Charlie Byrd, Evan White, SC
CH Female – CCH CH Oldtown Bayaway Miown Etc., B&T, Bridget Taylor, NC
---
Posted by Trevor / UKC on 02-28-2023 02:01 PM:
Tangipahoa Coon Hunters Association Inc
February 4, 2023
Amite, LA

Nite Hunt Results
MOH – Wesley Ratcliff
6 Entries

1st – NITECH 'PR' She's the One, TW, Kyle James, MS, 225+
2nd – NITECH 'PR' Cypress Lake Sister, TW, Robert Mitchell Prine, LA, 200+

Bench Show Results
BSJ - Wesley Ratcliff
1 Entry

BMOS – 'PR' Stylish Judge, TW, Chase Thomas, LA
---
Posted by Trevor / UKC on 02-28-2023 02:08 PM:
Abbeville Coon Hunters Association
February 4, 2023
Iva, SC

Nite Hunt Results
MOH – Mike Fleming
24 Entries

1st – 'PR' Carolina Drama, TW, Glenn Crawford, SC, 350+
2nd – NITECH 'PR' Neosho River Dixie, TW, Cranston Clark, NC, 275+
3rd – NITECH Frenchbroad Preacher's Django, XB, Joe Watson, SC, 225+
4th – 'PR' Burroughs Wipeout Bud, TW, Jason Burroughs, SC, 225+
5th – Hardtime Colt 45, XB, Keelan Smith, SC, 100+

Bench Show Results
BSJ – Julie Fleming
5 Entries

GRCH Male – GRNITECH GRCH(2) 'PR' Lockingtons Burr Oak Caesar HTX, ENG, Kayne Taylor, OH
CH Male – CH 'PR' Kentucky River Cooperton In Town, TW, Lee Currens, SC
CH Female – CH GRNITECH 'PR' Triple Creeks Louise, TW, Brandon McElrath, SC
BMOS – 'PR' Kentucky River Stonewall Jackson, TW, Lennie Currens, SC
---
Posted by Trevor / UKC on 02-28-2023 02:11 PM:
Bayou Coonhunters Association II
February 18, 2023
Watson, LA
Nite Hunt Only

Nite Hunt Results
MOH – Wesley Ratcliff
7 Entries

1st – 'PR' XCon's Petey, TW, Chad Breaud, Randy Rester, LA, 325+
---
Posted by Trevor / UKC on 02-28-2023 02:18 PM:
Norway Coon Hunters Association Inc
February 18, 2023
Norway, SC

Nite Hunt Results
MOH – Dale Weatherford
24 Entries

1st – NITECH Bad Habit Chief, XB, Savalas Franklin, SC, 225+
2nd – NITECH CH 'PR' Hillbilly's Hardtime Traxx, ENG, Mendel Miller, Melanie Hammond, SC, 200+
3rd – 'PR' Wipe Out 3Sums Riley, TW, Chris Holmes, SC, 175+
4th – GRNITECH 'PR' Socket 2'em Boodro, TW, Harry Hiott, Chris Hiott, Brad Antley, SC, 125+
5th – GRNITECH 'PR' Whetstone's Dixie Chick, ENG, Brandon Whetstone, SC, 100+
6th – NITECH 'PR' Edisto River Trippin Poison, TW, Brad Antley, Harry Hiott, SC, 75+

Bench Show Results
BSJ - Dale Weatherford
5 Entries

GRCH Female – GRCH(4) 'PR' Xena Ann's Swag, TW, Ashley Turner, SC
CH Male – CH 'PR' Dead Creek Shine, BLU, John Hoover, SC
CH Female – CH 'PR' Sweet Talkin Little Ann, RED, John Hoover, Sarah Hoover, SC
BMOS – 'PR' Hillbilly Shifted Too Early, ENG, Mendel Miller, Gunner Hein, SC
BFOS – 'PR' Stormy Midnight, BLU, John Hoover, Sarah Hoover, SC
---
Powered by: vBulletin Version 2.3.0
Copyright © Jelsoft Enterprises Limited 2000 - 2002.
Copyright 2003-2020, United Kennel Club