UKC Forums (http://forums.ukcdogs.com/index.php)
- Treeing Walkers: Dogs and Puppies For Sale (http://forums.ukcdogs.com/forumdisplay.php?forumid=26)
-- Deventer bred puppies (http://forums.ukcdogs.com/showthread.php?threadid=928519355)
---
Posted by mrains on 06-16-2019 05:53 PM:
Deventer bred puppies
Date of birth 5-1-2019
Three females and two males. Performance, SS and CHKC Reg
---------------Grabbers Dan
----------Kler Key Lay'd Back Larry
---------------Kler Kry Penny
-----pups $300.00
---------------Outsider
----------Indiana Hannah
---------------Snakehallow Hannah

Located in North West indiana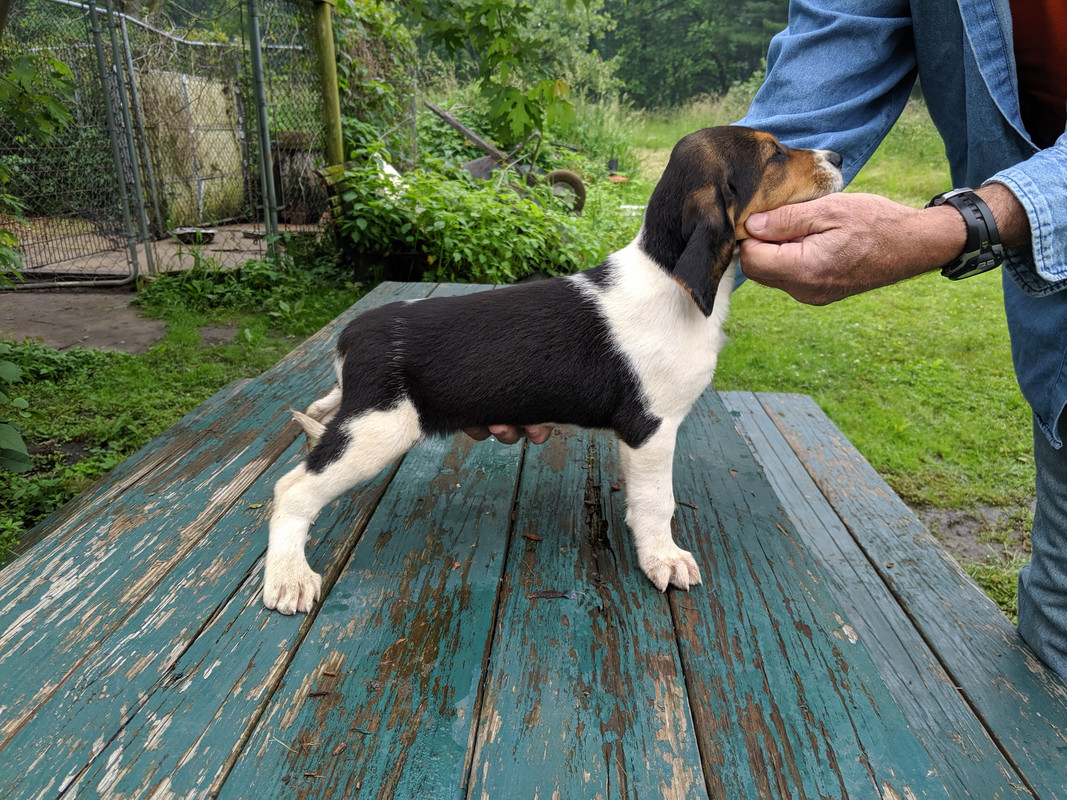 Female 1 Sold Thank you Codie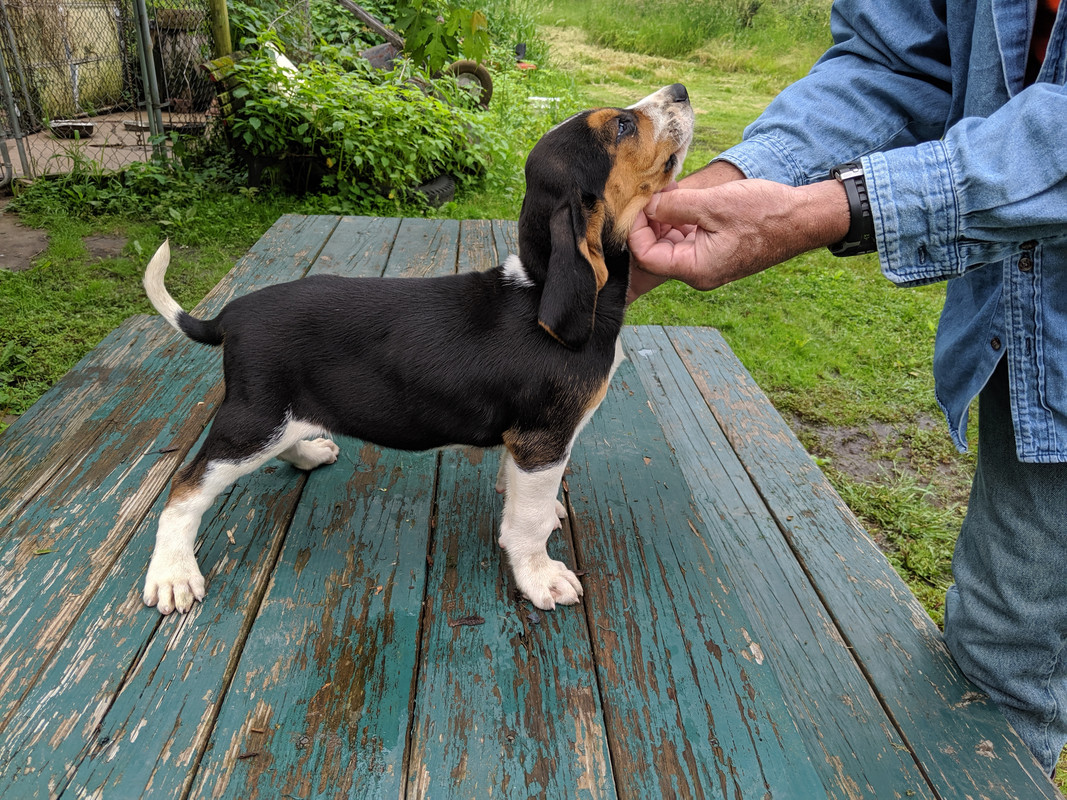 Male 1 Sold Thank you Austin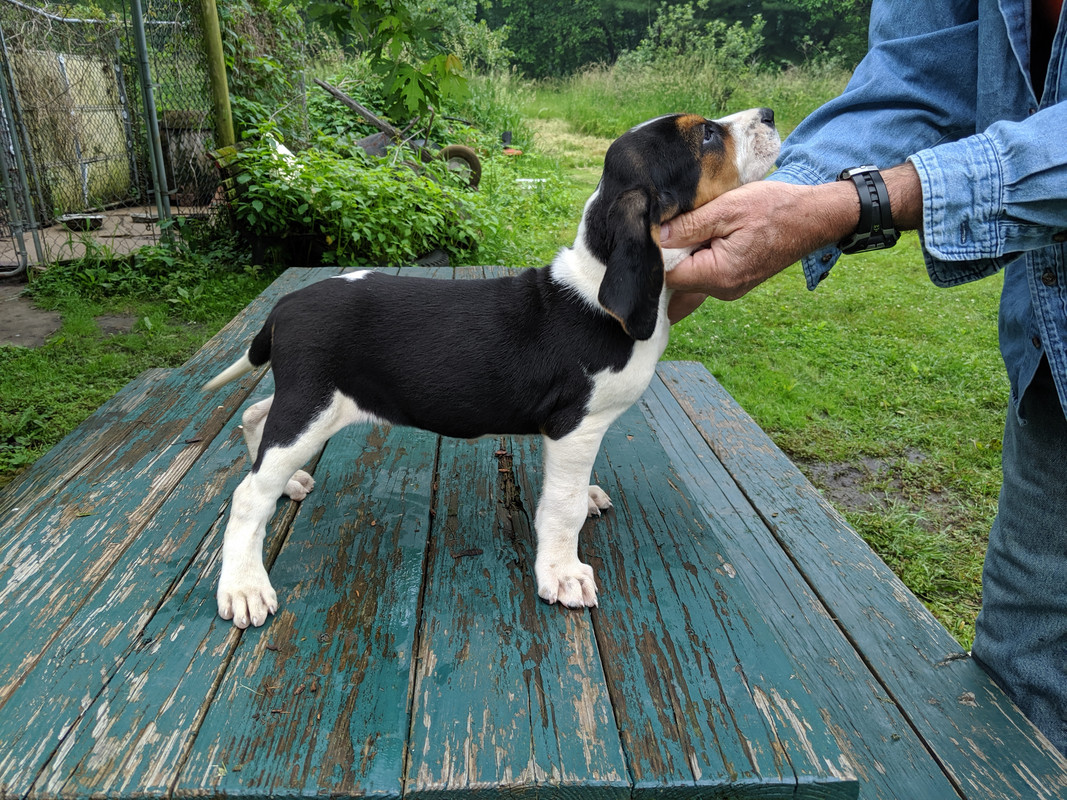 Female 2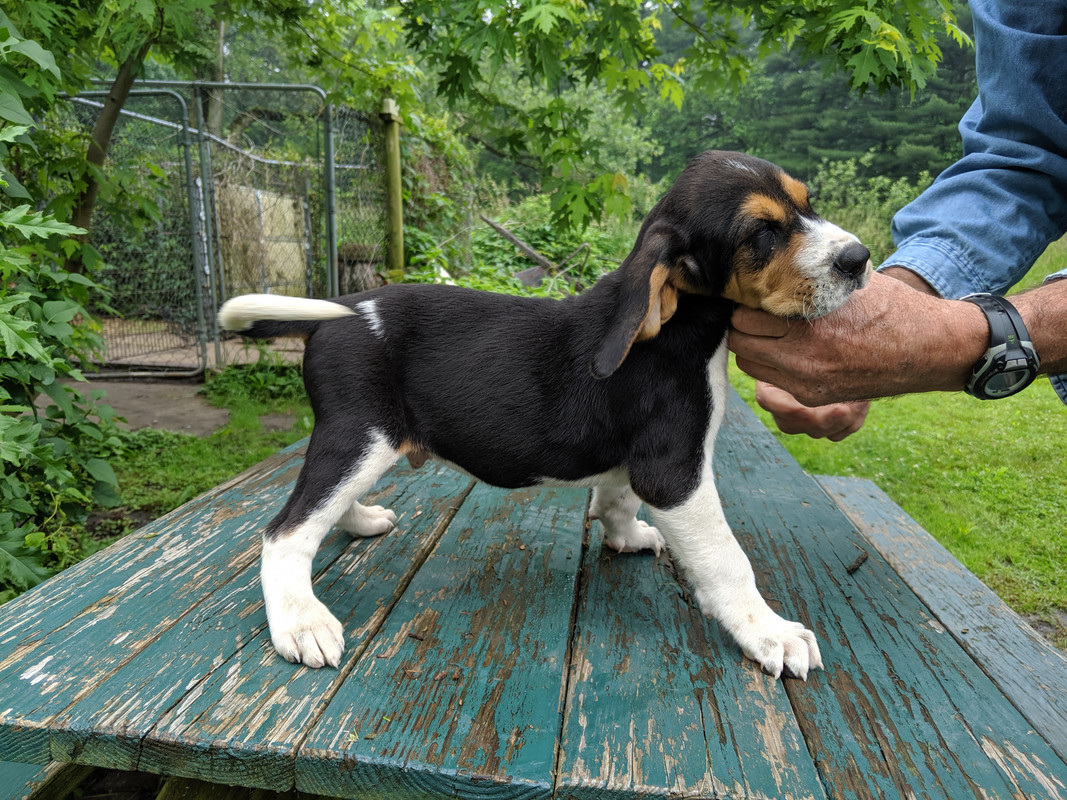 Male 2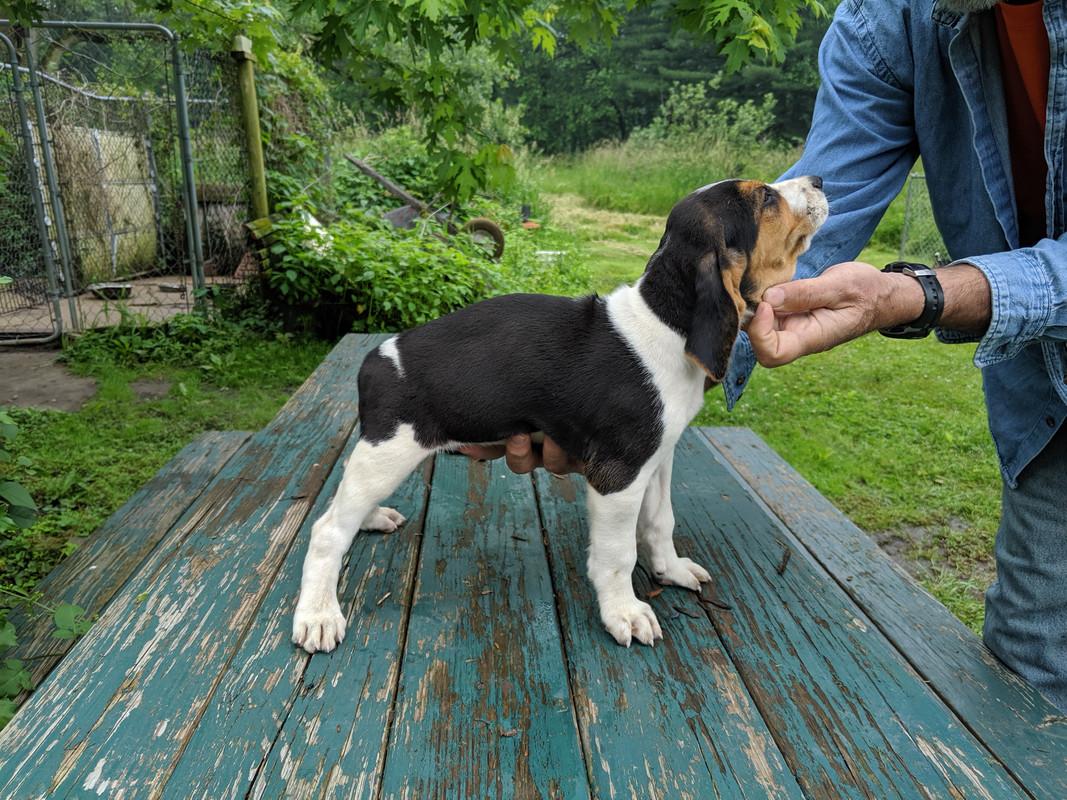 Female 3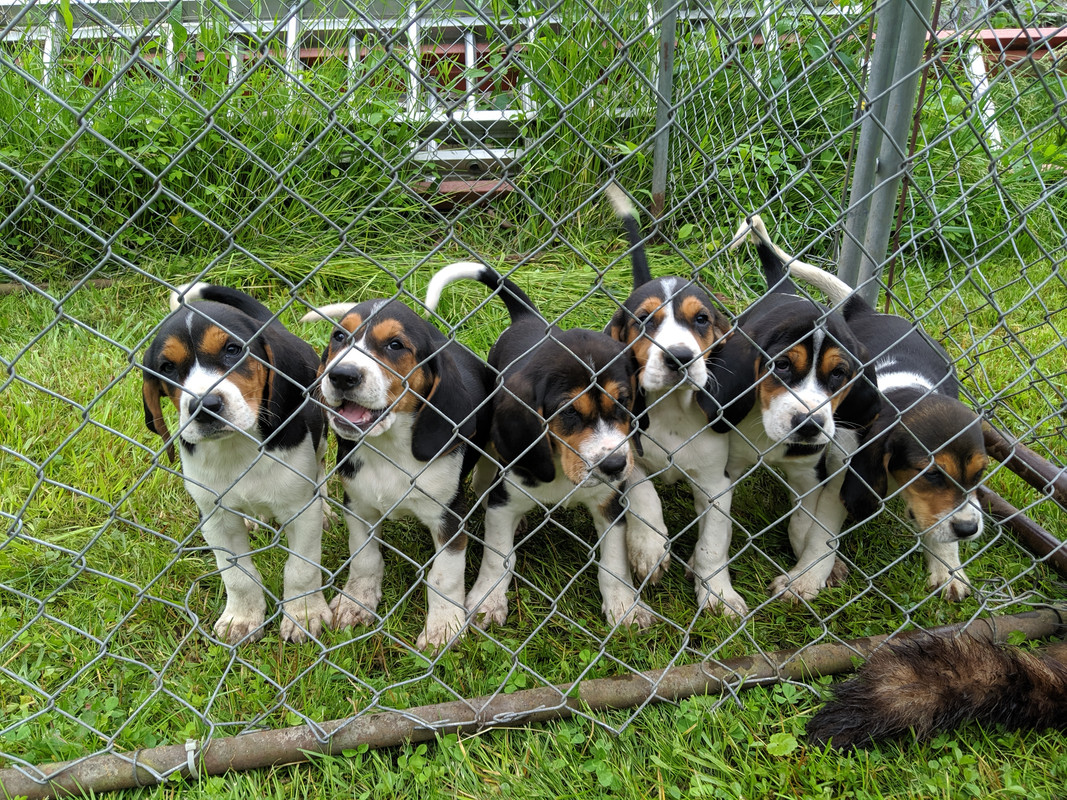 find a bp near me
---
Posted by Bates on 06-16-2019 10:09 PM:
Nice pups mick, are they yours
__________________
Home of 2004 UKC World Champion Gr. Nt. Ch. PKC Ch. Bates' Crytical Chuck ------------ Gr. Nt Ch. PKC Ch. Hard Knockin Odd Ball --------- Nt Ch House's Jammer-------NT CH House's Double Tough Bandit-------- House's Creek
---
Posted by Dave1 on 06-16-2019 10:20 PM:
Price?
---
Posted by mrains on 06-16-2019 10:43 PM:
Yeah Tom out of a female I raised.
Dave $300.00
---
Posted by mrains on 06-18-2019 01:25 PM:
Any questions you can contact me by text or leave me your number and I will have to return your call when I am able to talk. Thanks for looking, Mick Rains 219-926-4816
---
Posted by Bob Hennessey on 06-22-2019 06:06 PM:
Nice looking pups.
__________________
Ignorance: the lack of knowledge, education, etc.
Stupidity: lacking normal intelligence.
Intelligence: the ability to learn or understand.
You can't fix STUPID!
---
Posted by mrains on 06-22-2019 09:15 PM:
Thanks, they act good too. Should make some nice ones!
---
Posted by Kler Kry on 06-23-2019 02:57 AM:
Deventer Bred Pups
What is the breeding behind Snakehollow Hannah. Larry should produce good pups as his brother and sister do. What style of dog is the mother of these pups?
---
Posted by mrains on 06-23-2019 04:16 AM:
Dang Ken you asked for a mouthful. Her mom is off snake hollow tick and tequilla sunrise I believe without looking. The best would be to do a search for whitedog on the stud dog page. Pups mom is tight mouth until she gets it running then she is chop mouth all the way. Real accurate naturally straight. Prefers to be alone. Her time to shine is during rut she will get in front of anything I got. Other than that just a dog. Thanks for asking.
---
Posted by Kler Kry on 06-24-2019 04:57 PM:
Larry X Hannah Pups
If I didn't have Penney bred and too many pups to hunt I'd like one of these. Good luck with them and keep us posted on their progress. I may want to breed to one someday.
---
Posted by mac attack on 06-24-2019 06:38 PM:
Great pups
I went down and picked up my pup yesterday. It was hard to pick one as they were all over the place. Very busy minded pups with their noses to the ground. I have a feeling Louie is going to be an early and easy starter. Thanks again Mick.
__________________
Austin McCulley
RIP 'PR' McCulley's Tree-Huggin Cooper (Coma/Sackett)

NiteCh McCulley's Tree_Hugging Murphy(Coma/Coma)
M
Reedsville, Wi
920-973-0124
---
Posted by mrains on 07-01-2019 02:40 AM:
Three pups left to sell. 1 male & 2 female. Thanks to those that chose these pups. I'm seeing some good aštions from them. Will try and have updated pics later this week
---
Posted by mrains on 07-08-2019 11:09 PM:
Updated pictures
xx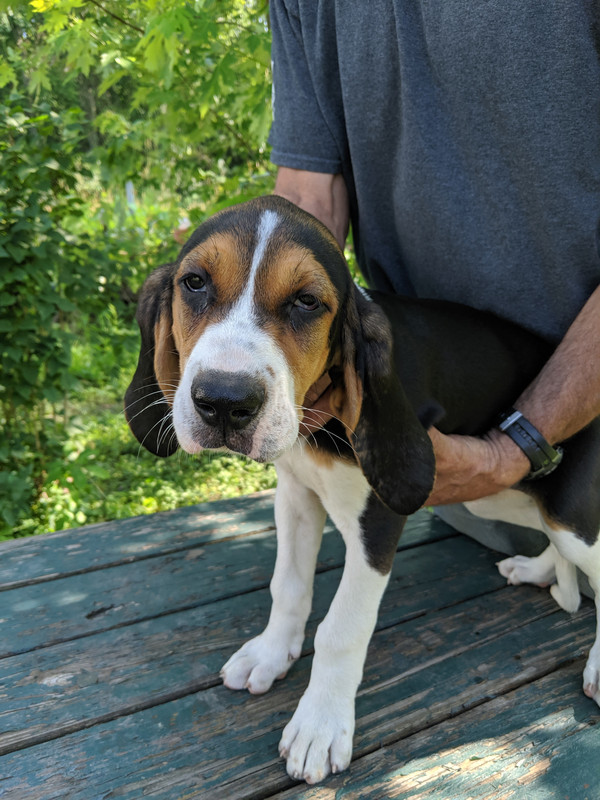 xx

xx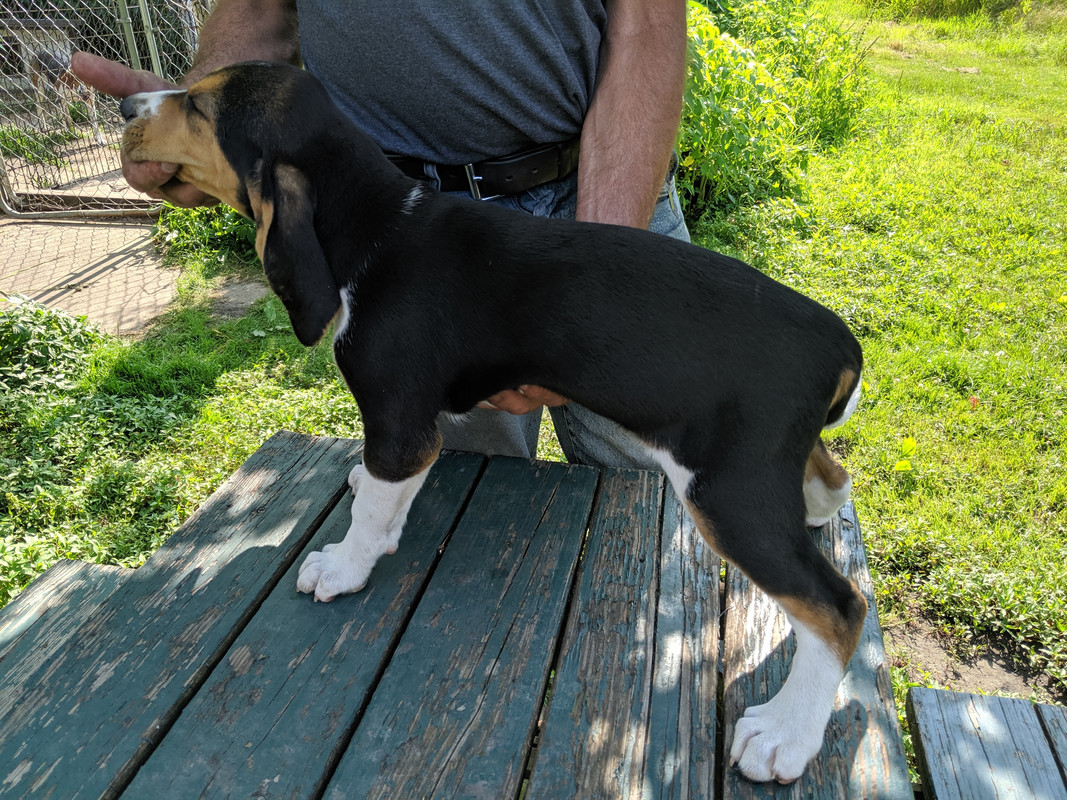 Male

url=https://postimg.cc/9wpMY5mM] xx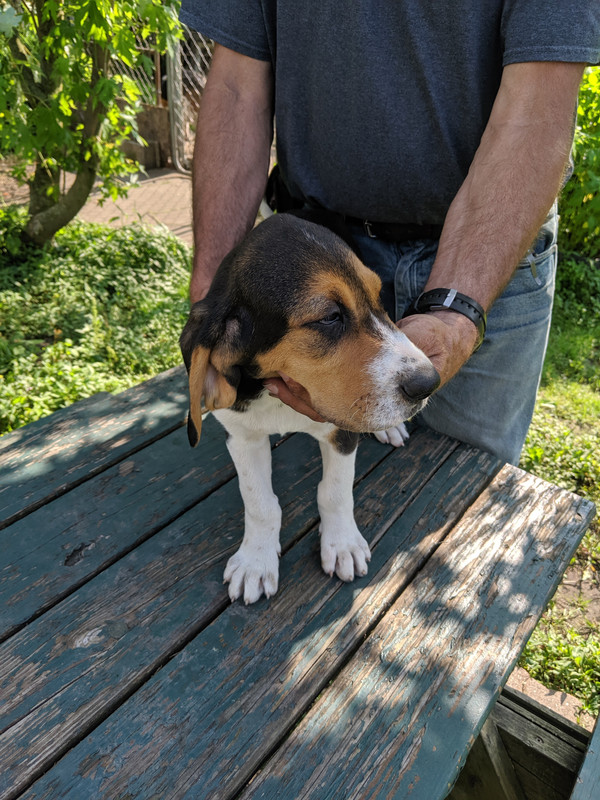 [/url] xx

xx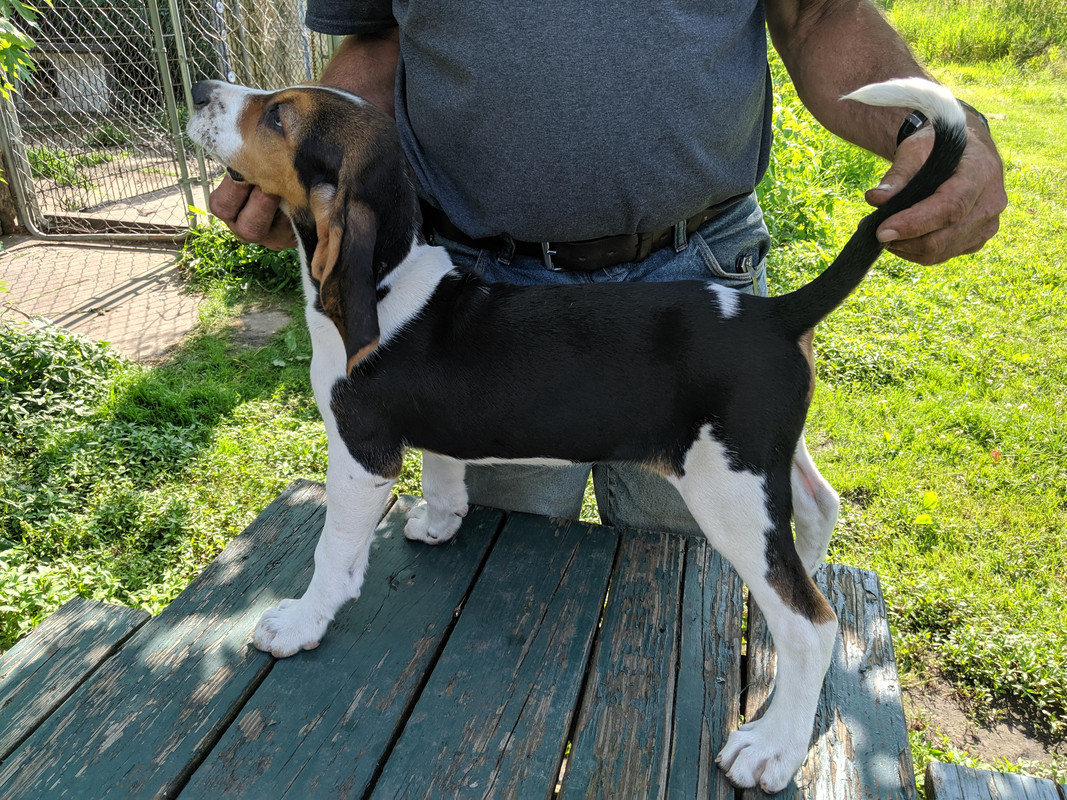 xx
Spoken for thanks Charley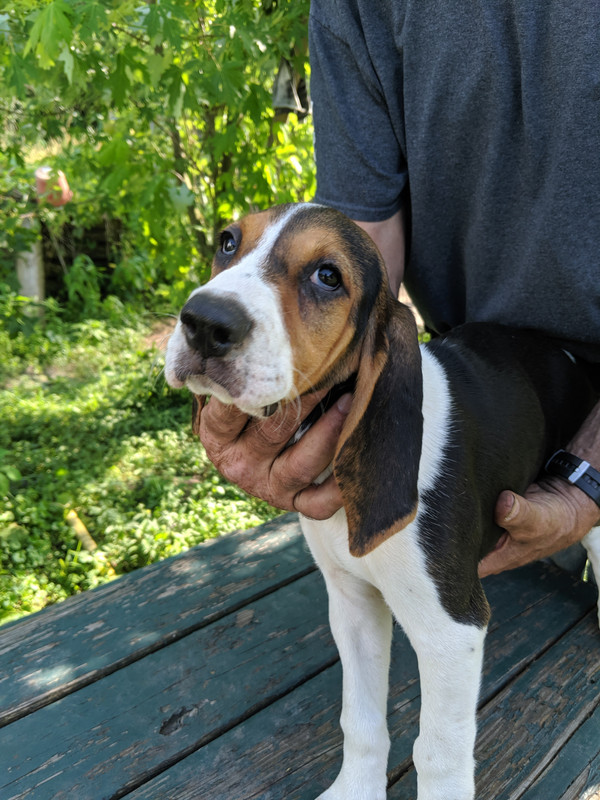 url=https://postimg.cc/dL5RJg2w]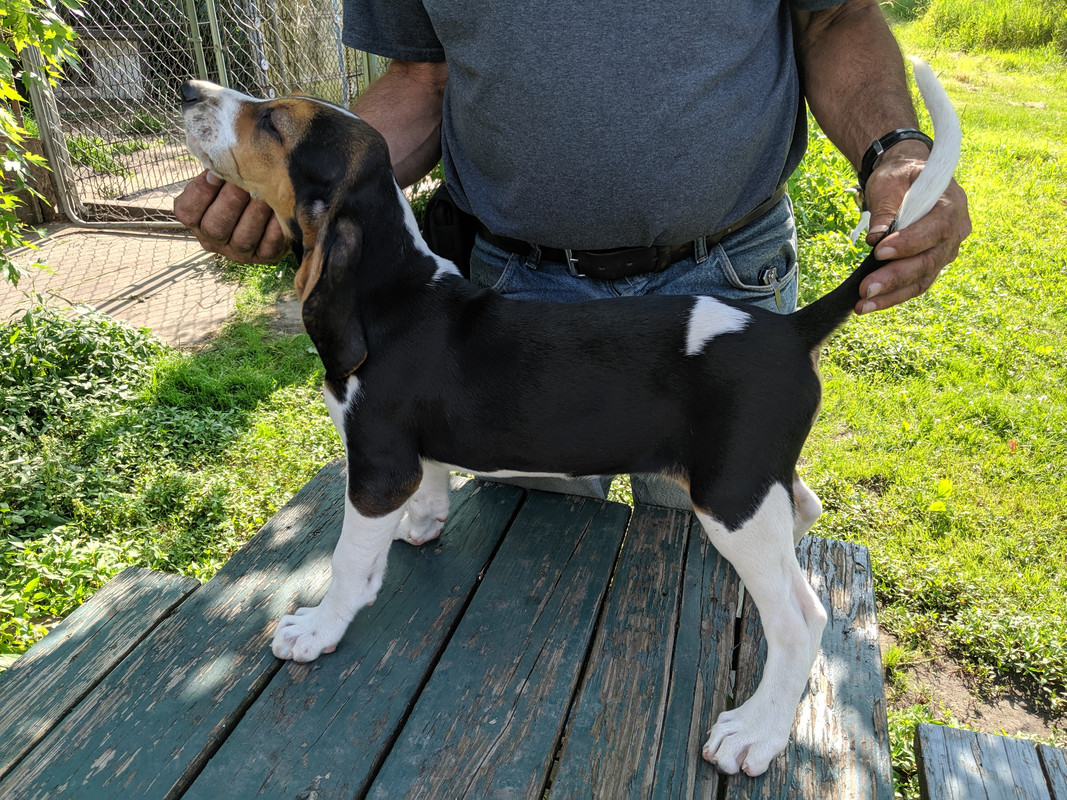 [/url]
---
Posted by mrains on 07-16-2019 02:45 AM:
Gettin' big. Have had shots, wormed and papers in hand. Ready to go.
---
Posted by mrains on 07-23-2019 01:11 PM:
Heard from Austin yesterday. He has been leash breaking Louie, he commented about how sensible his pup was. They do act smart. I expect them to do well, the three that are left are pretty bold and seem to follow thier nose alot whether it's in the air or on the ground. They have been hauled and handled daily, nice pups.
---
Posted by mrains on 08-08-2019 02:51 AM:
My son got his six gen. papers back on his male. And yes they show Pac-Man.....A few times. I will look at them tomorrow and try and post a copy. Real nice acting pups by the way.
---
Posted by mrains on 08-08-2019 10:02 PM: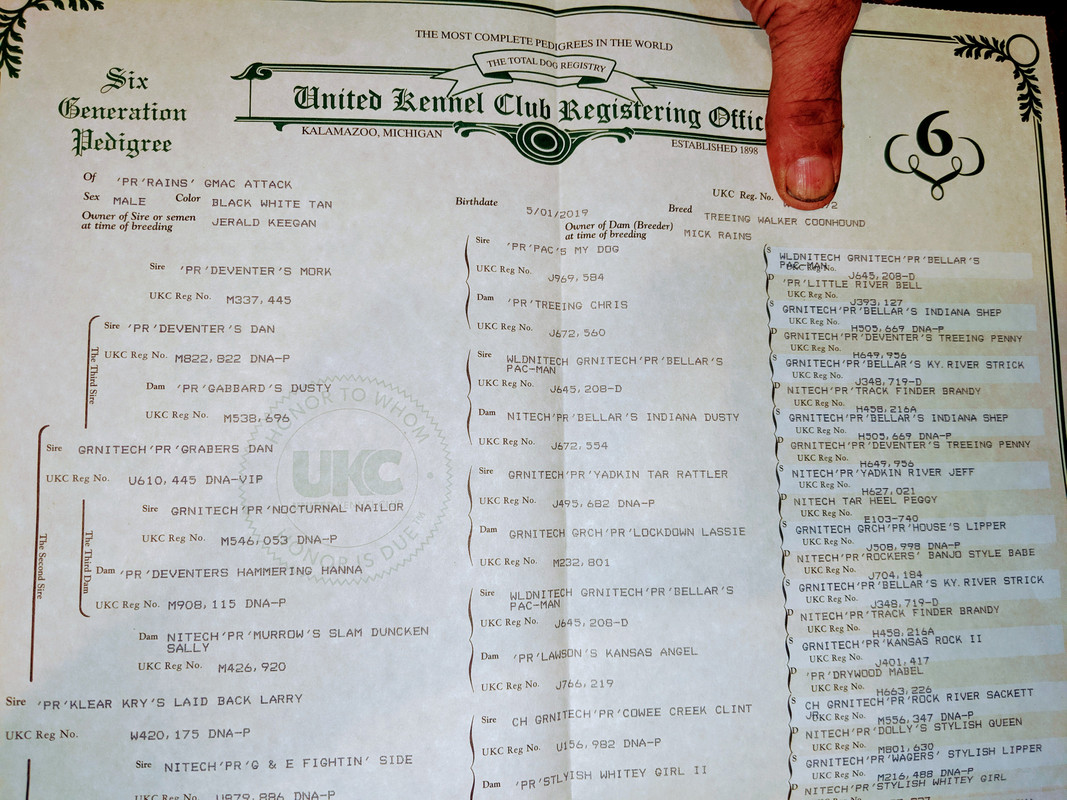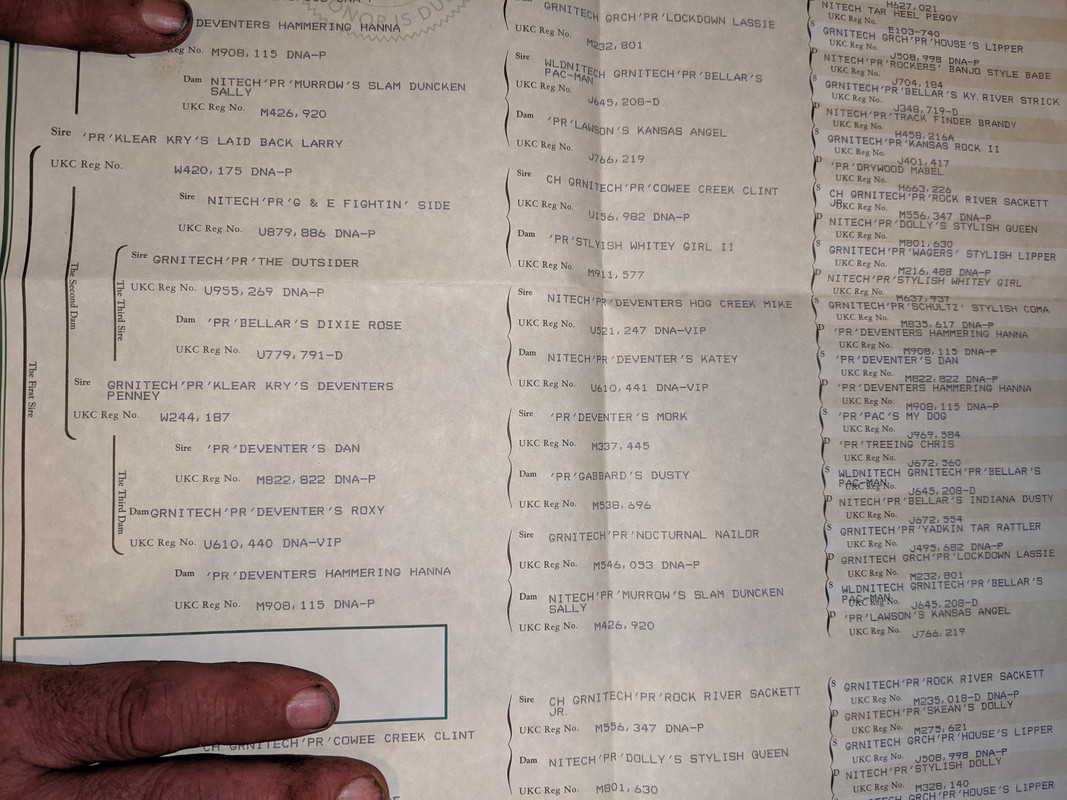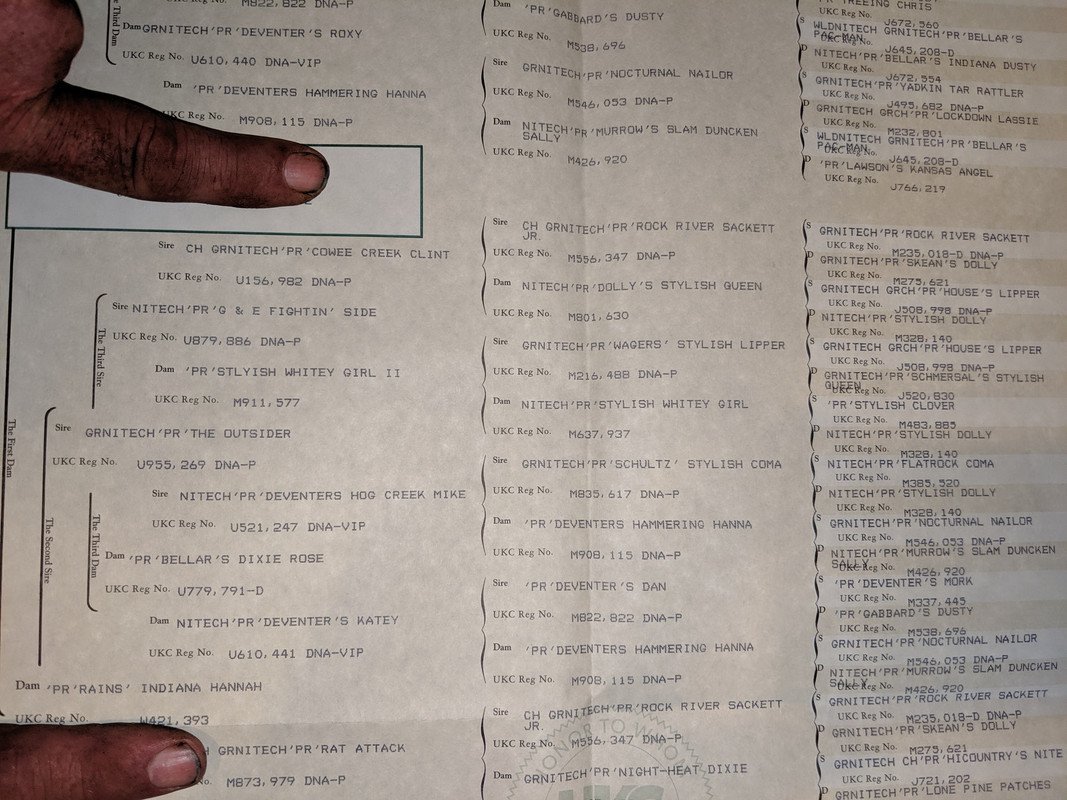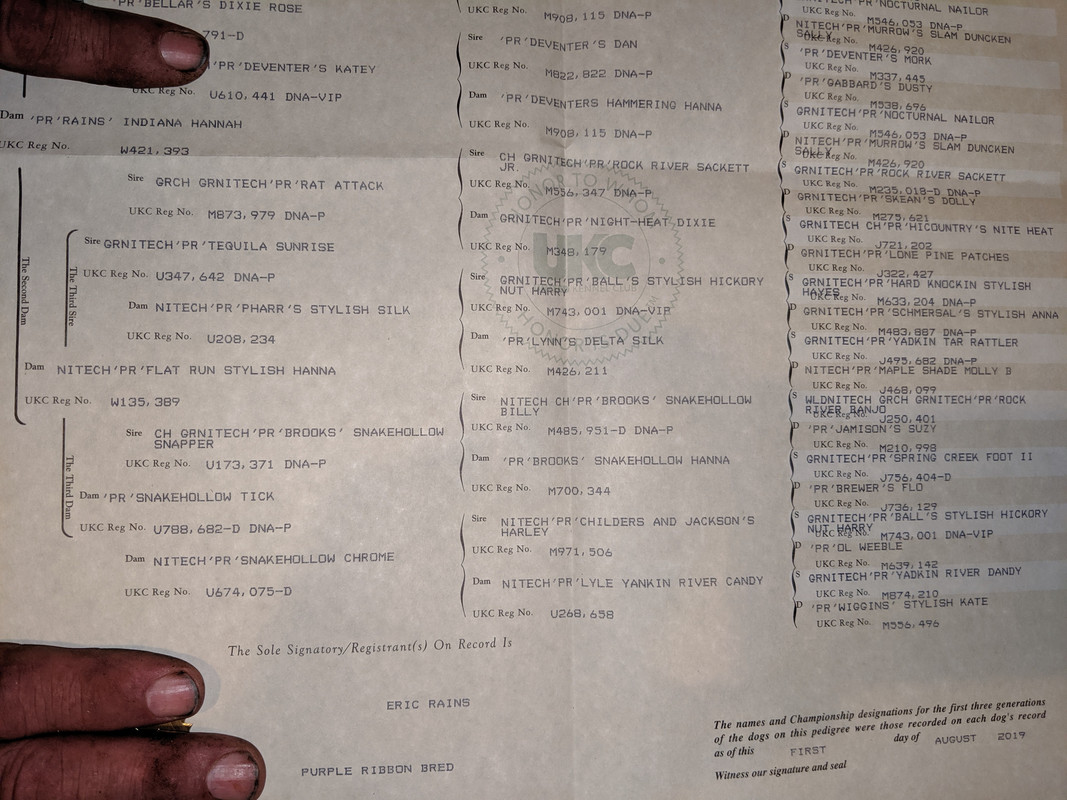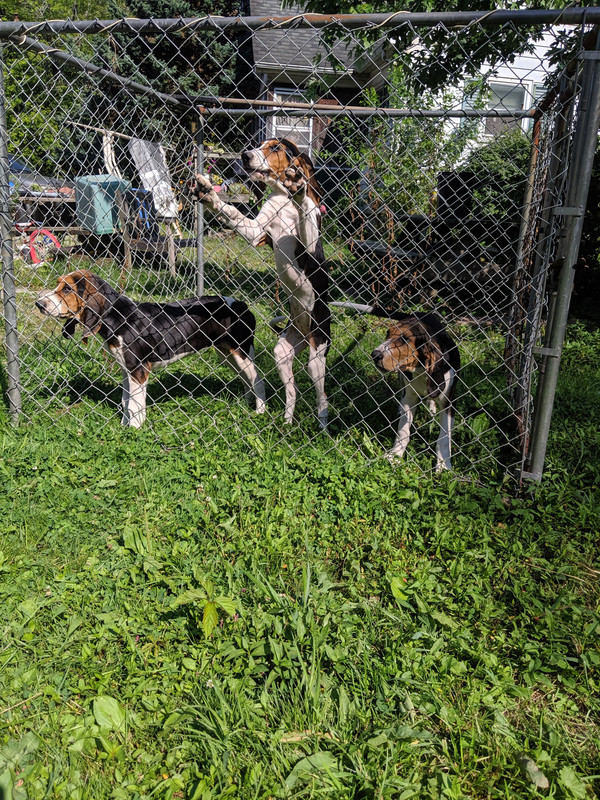 Female on left still available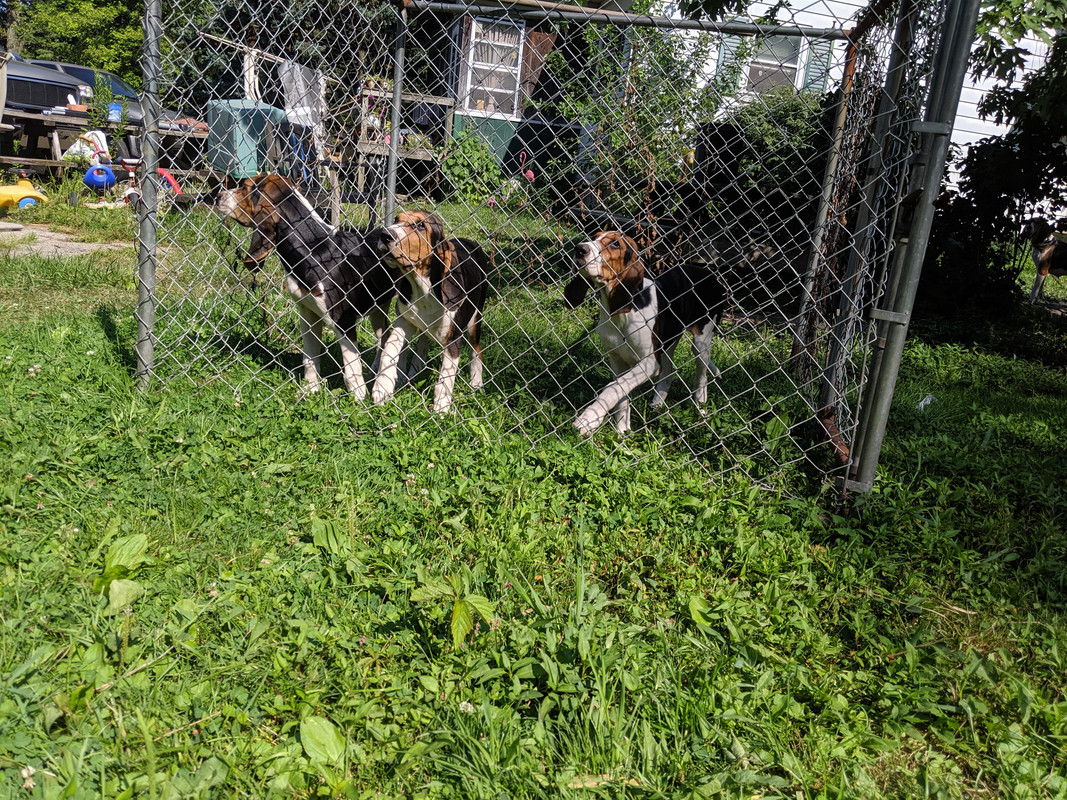 ---
Posted by mrains on 08-11-2019 07:52 PM:
As of now only one female left, Ryan will be picking up his male at Autumn Oaks. Thanks Ryan. Charles will be having his female picked up also. Thanks Charley.
---
Posted by mrains on 08-13-2019 07:41 PM:
As of now all pups are spoken for. Thanks Gary. If anyone's plans change I will post an update. Thanks to all involved.
---
Posted by mrains on 09-01-2019 04:01 AM:
All pups are with thier new owners except one.I apoligize to Ryan and his family for that sorry acting pup. I hope you all had a great time today . When we got home he was back to normal, go figure. If he wants to stay that bad I will just keep him. Thanks to Gerald and his family and everyone and thier families that got one of these pups. Let the fun begin
---
Powered by: vBulletin Version 2.3.0
Copyright © Jelsoft Enterprises Limited 2000 - 2002.
Copyright 2003-2017, United Kennel Club