UKC Forums (http://forums.ukcdogs.com/index.php)
- UKC Coonhounds (http://forums.ukcdogs.com/forumdisplay.php?forumid=4)
-- Dual Purpose "Rebel" at the UKC World Finals (http://forums.ukcdogs.com/showthread.php?threadid=928522596)
---
Posted by Ricochet17 on 09-24-2019 11:47 AM:
Dual Purpose "Rebel" at the UKC World Finals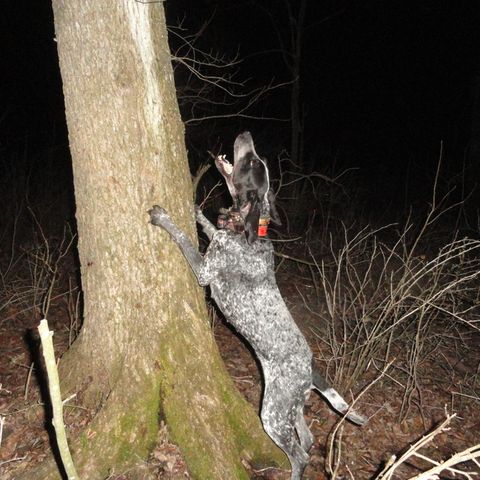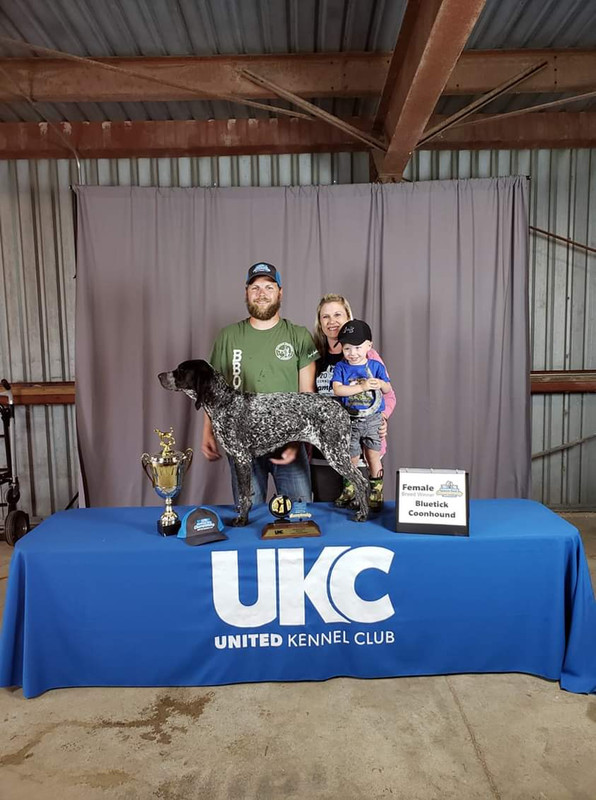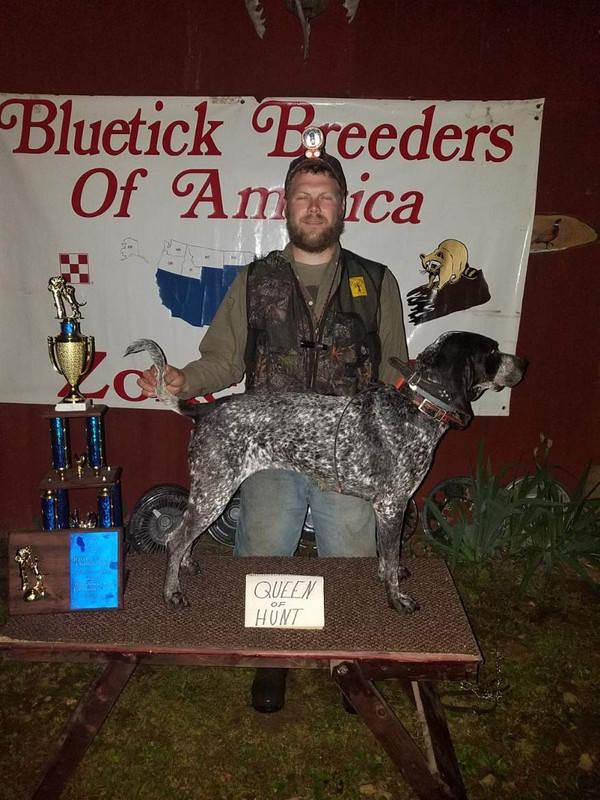 Congratulations to GrNtCh(2)GrChHTXPR' Downings's Treein Blu Rebel on making it to the top 104 and hunting at this years UKC World Finals and following it up by winning Best Bluetick female of breed at the World Show Saturday. Not a very easy accomplishment these days. Nicely done Daniel Downing and Rebel!
__________________
Well it kinda sounds like my dog judge..........
---
Posted by Corey Gruver on 09-24-2019 01:04 PM:
That's one heck of a blue dog! Congrats to Dan and his family on such a nice dual female.
__________________
Corey Gruver
7244566813
---
Posted by pamjohnson on 09-24-2019 01:51 PM:
Congratulations
---
Posted by T Felderman on 09-24-2019 02:04 PM:
Congrats Dan
Very few accomplish this!
---
Posted by Kler Kry on 09-24-2019 02:11 PM:
Congratulations
Congratulations to the Downing Family and all the breeders behind Rebel dog.
---
Posted by Redneck Mafia on 09-24-2019 03:55 PM:
Refreshing!!! So nice to see someone let their dog do what they are bred and love to do... hunt. Congrats on your accomplishments!
__________________
Cheyenne & Jennifer Cummings
Seneca , MO
(417)317-4815
GRNITECH PKC SCH REDNECK MAFIA
NAT GRNITECH GRCH GRNITECH(3) PKC PCH REDNECK BACKWOODS SHACK
2014 OK STATE CH, 2015 MO PKC LEADER, 2016 PKC NATIONALS SEMIFINALIST, 2016 UKC TOP 20, 2O17 UKC WORLD CHAMPIONSHIP 3RD PLACE, 2018 PKC SENIOR SHOWDOWN TRUCK HUNT FINAL 4, 2018 MO PKC STATE CHAMPION, 2019 AUTUMN OAKS NATIONAL GRNITE CH, 2019 PKC WORLD CH SEMIFINALIST.
GRNITECH CH PKC CH REDNECK SHACK ATTACK aka TAC 2018 OKLAHOMA STATE CHAMPION
---
Posted by mikie on 09-24-2019 08:38 PM:
Nice
Congratulations
__________________
Past. nitech'ammons.midnight ringo
nitech'ch'ammons midnight't tess
Nitech pr ammons midnight rockit
Home of
grch'grnitech'ammons midnight'ace
nitech m&m midnight'bandit
Nitech midnight hammer htx
Nitech ammons midnight Blue htx


mike ammons 304-798-3340
---
Posted by Ron Moore on 09-25-2019 08:38 PM:
Congrats to Dan and Rebel!
Not all pretty dogs are coon dogs and not all coon dogs are pretty dogs but this fine hound definitely has it both. Well done!!
---
Posted by Gary Napier II on 09-26-2019 01:48 AM:
Congratulations!!!!

This is an accomplishment that doesn't happen often.
---
Posted by PlottDawg on 09-26-2019 01:54 AM:
Good lookin Blue dog on the bench and Gorgeous on the tree
__________________
Ryan McMillan
---
Posted by honalieh on 09-26-2019 02:33 AM:
Love the looks of that dog.
From the picture this dog reminds me of the old Blue River Boomer dogs.
---
Posted by ohme on 09-28-2019 03:21 PM:
Nice job! Didn't his dad do the same thing many years ago?
---
Posted by Nick Koch on 09-28-2019 04:19 PM:
Great job
__________________
Home of:
GRCH NITECH 'PR' Yadkin River Hutchy Boy HTX
GRNITECH CH 'PR' Yadkin River Hash brown boy
2018 Wisconsin state championship
In memory 'PR' Nocturnal Rocking Anniy
`pr` Koch`s pop`em up Daisy
2019 heartland classic winner (4-wheeler hunt)
---
Powered by: vBulletin Version 2.3.0
Copyright © Jelsoft Enterprises Limited 2000 - 2002.
Copyright 2003-2017, United Kennel Club