UKC Forums (http://forums.ukcdogs.com/index.php)
- English: Stud Dog and Kennel Promotion (http://forums.ukcdogs.com/forumdisplay.php?forumid=57)
-- Platinum Ch. GRNITECH Awesome's American Gangster (http://forums.ukcdogs.com/showthread.php?threadid=928546374)
---
Posted by Maupin1018 on 06-24-2022 06:46 PM:
Platinum Ch. GRNITECH Awesome's American Gangster
I have started breeding Gangster and I think he has a lot to offer to the breed. He is a lower end strike dog that is gonna be alone somewhere with a coon. He is off Hardtime Awesome and a female that goes back to Crossroads Dan.

Located in East Tn

Contact # 423-525-6456
---
Posted by seth isch on 07-18-2022 08:39 PM:
Gangster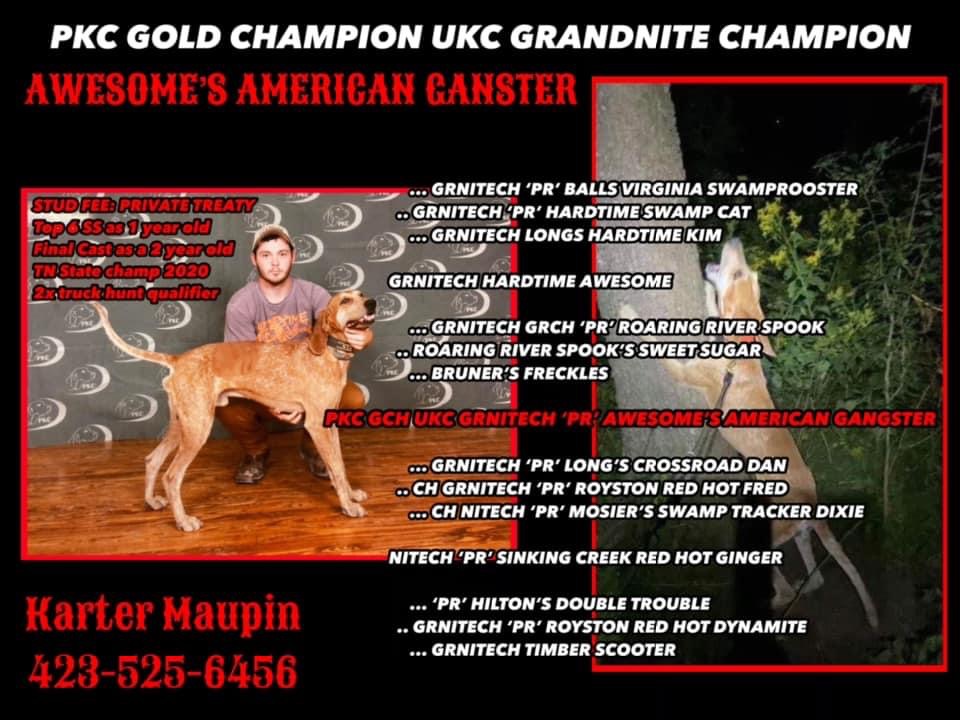 __________________
-- HOME OF "RED RUBY HARDTIME KENNELS"
GR NT CH PR HARDTIME HADDIE-ELI ISCH
GRNTCH BIG HOLLOW AWESOME LEXUS OWNED BY IZZY ISCH
—————-
Gone but not forgotten
GrNtCh Charley 7
GrNtCh Red Ruby Ringo
GrNtCh Red Ruby Suzie
GrNtCh Red Ruby Hardtime Pearl


I use and sell Outlaw Lights and Dakota Lights.


MY HOUNDS USE
E&M DOG BOXES

----------------------------------------------------------
SETH ISCH 1-260-701-2137
---
Posted by Maupin1018 on 07-19-2022 04:00 PM:
Thanks Seth!
I have breed a couple nice females the past couple weeks.

If interested in a pup shoot me a message. 423-525-6456
---
Posted by Maupin1018 on 08-07-2022 03:37 PM:
Pups
Had 11 born last week. Will be SS and Perf have a few left. 423-525-6456

Also bred two more females that should be pretty good crosses.
---
Powered by: vBulletin Version 2.3.0
Copyright © Jelsoft Enterprises Limited 2000 - 2002.
Copyright 2003-2020, United Kennel Club