UKC Forums (http://forums.ukcdogs.com/index.php)
- UKC Coonhounds (http://forums.ukcdogs.com/forumdisplay.php?forumid=4)
-- UKC Tournament of Champions Regions (http://forums.ukcdogs.com/showthread.php?threadid=928550740)
---
Posted by Trevor / UKC on 03-27-2023 06:10 PM:
UKC Tournament of Champions Regions
It's Tournament of Champions Regions week! I'm excited for the weekend and I hope y'all are too.

Here is some information in case you haven't seen this on your information sheet, or the website.

1. Deadline to confirm your entry will be 5 pm local time each day. Entries will be taken 3-5 pm at your Region location.

2. Like the World.Championship Zones, there are no spectators at the TOC Regions. Each handler will be allowed 1 back up handler that will need to be notated on the scorecard. That back up handler has the option to walk with cast or stay at the truck.

3. 96 dogs will advance to the Finals. The amount of dogs advancing from each Region was determined by the total number of entries, compared to the number of entries in each Region. To fulfill the allotment of advancing dogs, first to be considered will be double cast winners. To fill the remaining slots, it will be the highest scoring single cast winners. The breakdown of advancing dogs looks like this:
La Plata, Missouri: 18
LaGrange, Indiana: 15
Mt. Gilead, Ohio: 21
Lancaster, Kentucky: 16
Conway, Arkansas: 14
Comer, Georgia: 12

For full list of entries: https://www.ukcdogs.com/article/202...amp;view=recent

For full Tournament of Champions FAQs: https://www.ukcdogs.com/article/tou...amp;view=recent

For rules, information sheet, and all other information, go here: https://www.ukcdogs.com/ukc-tournament-of-champions

Good luck to everyone!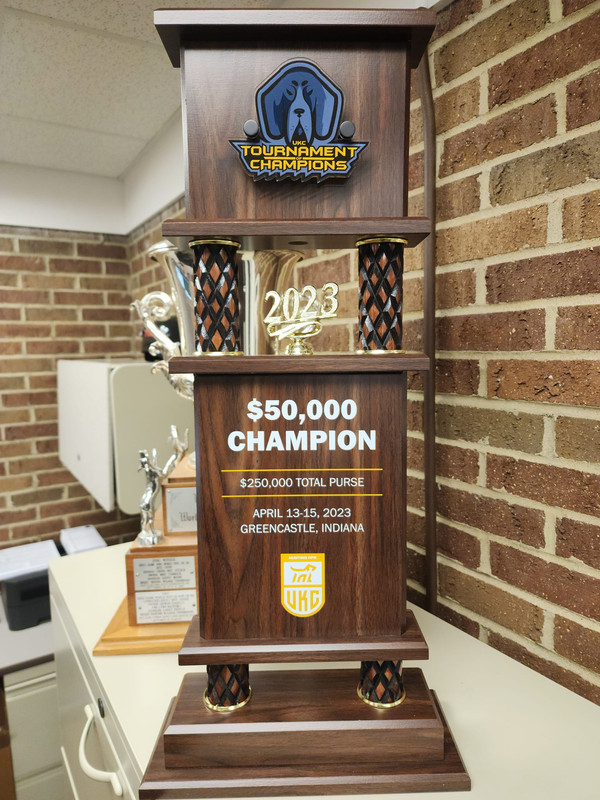 ---
Posted by garyccox on 03-28-2023 12:21 AM:
AS a director from N.P.H.A. good luck to all Plotts entered in this years UKC Tournament of Champions. Safe travels
__________________
garyccox
---
Posted by Richard Lambert on 03-29-2023 03:37 AM:
Weatherman is saying there will be severe weather in Missouri this weekend.

---
Posted by berger on 03-30-2023 01:57 PM:
quote:

---

Originally posted by Richard Lambert
Weatherman is saying there will be severe weather in Missouri this weekend.

---


It will be windy, but storms should be over with before going to woods Friday night.

__________________
Tree Jar'n Black and Tans
Home of Tree Jar'n Coonhound Kennels


319-201-8445
---
Posted by Allen / UKC on 03-30-2023 07:34 PM:
Looks like the projected weather this weekend in most regions won't be as we would draw it up, if we could. But we hope everyone can adjust accordingly and make the best of it. More times than not, weather predictions gear towards the worst. Fingers crossed, it won't be too bad and everyone stays safe to, from, and during the hunts. Good luck everyone!
---
Powered by: vBulletin Version 2.3.0
Copyright © Jelsoft Enterprises Limited 2000 - 2002.
Copyright 2003-2020, United Kennel Club