UKC Forums (http://forums.ukcdogs.com/index.php)
- Blueticks: Stud Dog and Kennel Promotion (http://forums.ukcdogs.com/forumdisplay.php?forumid=56)
-- Queen of hunt. E & E Salt River Kandy (http://forums.ukcdogs.com/showthread.php?threadid=928523215)
---
Posted by ELMO OVERTON on 10-14-2019 01:59 PM:
Queen of hunt. E & E Salt River Kandy
I'm very proud of Earl and Kandy on their wins. This past weekend at the BBCHA Fall Roundup. 2 years ago in Dyersburg Tennessee Earl and I bought Kandy as a puppy from Darren Williams. His female Grand Night Champion Red Stick Ann is Kandy's mother. She won Queen of hunt at Fall Roundup that year. She has been a natural for us since she was 6 months old. I believe her littermates are doing the same. She has won queen of a hunt now twice. She has Four Wins. She definitely isn't perfect and has a ways to go but she is a winner. Thanks again Earl. I wish I could be in the woods with you. You take me along to hear her that's good enough for me.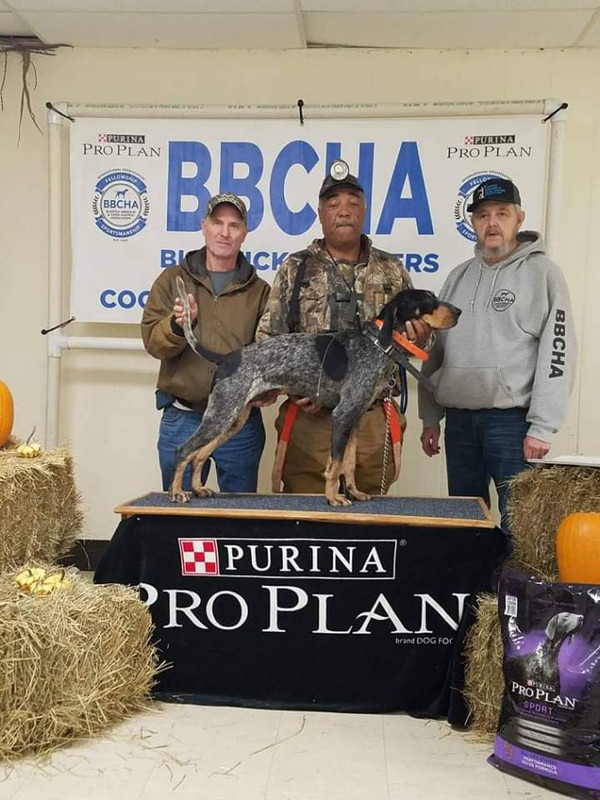 My good friend Terry Estill is in the picture with Earl Howell. This is Friday nights win. I hope to get a picture of Earl for the Queen up soon.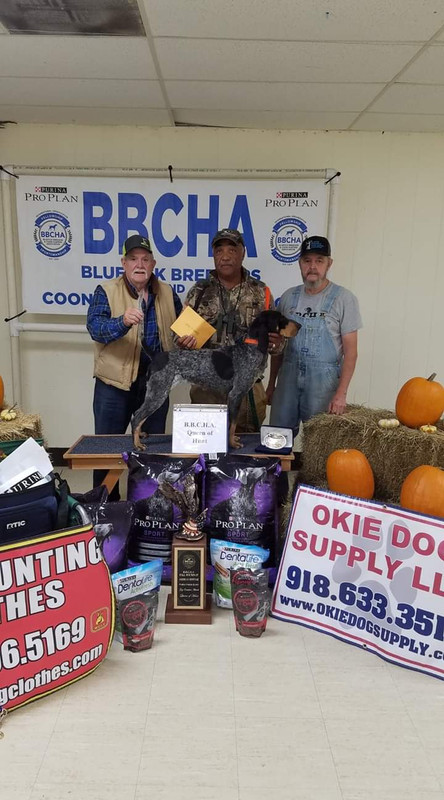 Earl Howell with E&E Salt River Kandy Queen of Hunt 2019 Fall Round UP.
__________________
Past and Present

RIP
GrNitech Overton's Breathless Blue Chief Full brother to Nite ch Snowdens Runt
Gr Nite ch Overton's Breathless Blu Knight. King of Hunt Fall Round Up 2006 loudest dog I have ever owned.
Gr Nite ch Overton's Breathless Blue Roler hit died at 2years old at semi finals of World hunt
Gr Nite ch Utchmans Double Eagle Hoss
Dual Grand Utchmans So Blue Timber top 100 Finalist in 2005 World hunt 2012 performance sire
Gr Ch Nite CH Overton's Breathless Blue Warrior 4wins died at 6 yrs old. Sire to Knight
NiteCh Overton's Breathless Blue Dixie LOUD!
NiteCH Lienbachs Breathless Blue Jammer
Nite Ch Overton's Breathless Blue Drum 3 wins to Grand. before 2 yrs old Running ant treeing wild coons at 5 months alone.
Gr Ch Nitech Rob's Blue Tomahawk
Pr Overton's Breathless Blue Dolly super fast track and tree dog. accurate.
Grch Nitech Overton's Utchmans Blue Belle
Nite Ch Overton's Breathless Blue Sabrina 2nd place Nite ch at Fall Round Up 2009
Nite Ch Pr Overton's Breathless Blue Sounder
GRNite Ch Pr Overton's Breathless Blu Magic 13 years old brother to Roler
Pr Overton's Breathless Blue Gobber. Running and treeing wild coons at 5 months

Nite Ch O Breathless Blue Tree Dragon
Treeing his own wild coon at 6 months old.

Dogs living
Overton"s Breathless blue Julia. Bill Bird owner
Dual Champion Uchtman So Blue Lumber 6yrs
Owned by Cody Stader in Indiana
Dual Grand Overton's Breathless Blue Maggie
Present Owned by Luke Wood in Okalhoma


Dall Haden and Bobby Hayes have been a big part of my breeding of my hounds also Bill Bird for help keeping it going.

*All my dogs are old Ucthman Hawk and Scout breeding with some Smokey River Chief and Diamond Jim.
573-228-3169
Kandy off Bojangles and Grand Nite ch PKC CH Redstick Ann. Super fast track dog good tree dog loud. co owner with Earl Howell Queen of Hunt at Fall Round Up 2019 at 2 years old.

Overton"s Breathless Blue Lincoln
Overton"s Breathless Blue Ava.
---
Posted by Surveyor on 10-14-2019 03:03 PM:
Congrats guys, job well done!
__________________
Mike Sheppard
Sheppard's Northern Blue's
Home of UKC GR NT CH, PKC CH
2 time world finalist, 10th overall and high scoring Bluetick of the 2010 UKC World Coonhound Championship
NASHOBA VALLEY PIAZON, (RIP)
his littermate brother
UKC NT CH SHEPPARDS NORTHERN
BLUE LONER (RIP)
UKC GR NT CH RATTLERS BLUE SKY (RIP)
UKC Gr NT CH, PKC Ch Sheppard's Northern Blue Abbie, (PiazonxSky) UKC GR NT CH 'pr' Sheppards Northern Blue Punkin (PiazonXAlice) High scoring Bluetick of the 2015 (50th anniversary) Grand American, 2017 National Grand Nite Champion of breed, 2017 BBOA zone 4 Nite hunt dog of the year. Queen of hunt on 2019 Grand National Bluetick Reunion, 5th place and High Scoring Bluetick of 2019 UKC world Nite hunt Championship, 2019 Triple Crown Winner.
UKC GR NT CH 'pr' Mckintosh's Blue Flame Chopper
Gr Nt Ch Sheppards Northern Blue Goomba (Piazon X Dizzie) 14th place 2017 UKC world coon hound championship 100 purina point cast wins in 2018
and several other blueticks of lesser accomplishments

---
Posted by Ron Jackson on 10-14-2019 03:39 PM:
Congratulations!
---
Posted by morgan branch on 10-14-2019 04:24 PM:
Congrats guys .
__________________
Morgan Branch Kennels:
" where quality comes first "
---
Posted by lincoln on 10-14-2019 05:18 PM:
Earl,Elmo,kandy
Good job guys
---
Posted by blueticker on 10-14-2019 05:25 PM:
Congratulations!
__________________
Home Of:
Gr Nt Ch, Ch Natural Smokey River Irene a coondog (Mailes Bob X Nt Ch Utchman Blue Two)
Gr Nt Ch Natural Smokey River Flo UKC Top 20 placing 15th UKC World 2011, top 100 2014 (Rebel x Mailes Lil)


The Hounds I Enjoyed Hunting:
Dual Gr Natural Smokey River Rebel, A buddy of mine
Gr. Nt Natural Blue Echo ( Gr Nt Quail Ck Jimmy X Nt Ch Natural Blue Bell)
Gr Nt Smokey River Chief's Joe (JBS Chief X Gr Nt Jeans Ruby)
Gr. Nt. Ch. Natural Smokey River Lucy (Chief's Joe X Muggins)
And Many More
---
Posted by Rolin Blues on 10-14-2019 08:10 PM:
Congrats guys
Elmo, Earl & Kandy. Was a pleasure to hunt with Earl both nights. I told Earl on way back Sat night, You owe me a steak supper for opening my mouth on a long distance 'bad' call Fri night to lose & then Lil being too loose on tree to meet us on coon, so you could win again, but those are the breaks of game. Really enjoyed hunting with them both nights & will plan on hunting with you (them) again, if i get down that way. Or you guys are welcome to slip up here to take a hunt anytime.

I do want to mention Earl, in particular. They have a Cw Fri night & are leading cast Sat night, after Lil takes minus causing her own 'bad break'. I'm bushed from being in woods 4 nights in a row, plus a 9 hr road trip on Saturday to pick up new dog, so i WD. With Earl leading our cast, he offers to WD his dog, so Lil can finish last 30 minutes of cast. I told him, "No way i was letting him do that", because he could still tree coon to get on plus side of board & win Queen. And the rest is history as they say. Roger & Earl scored another coon & Kandy wins the new title. Special thx for offer Earl, but am sure glad YOU stayed in hunt. Take care, Ron.
---
Posted by steeb_63 on 10-14-2019 09:22 PM:
im so very happy to have met Earl and seems to me it was very well deserved!!!! Elmo it was also great to see you out and about!!! if I was closer I would be dragging you out also!!!best of luck to both of you!!!!
__________________
GRNITECH GRCH PKC SCH STEBERS MIGHTY LONESOME II
HIGH SCORING BLUETICK BLK & TAN DAYS 2016, 2017 and 2018
TOP 9 2017 FALL SUPERSTAKES
2018 2ND PLACE BREED WINNER PKC
2019 ILLINOIS STATE CHAMPION
2019 AUTUMN OAKS GRAND 16
2019 AUTUMN OAKS NATL GRNITECH OF BREED
2019 ZONE 3 HIGH SCORING DOG
2019 WORLD CH TOP 100
2019 PURINA NATIONALS BREED WINNER.
2019 FALL ROUND UP KING OF THE HUNT.
2019 ERCHA PKC PRO HUNT TOP 4
2020 WINTER CLASSIC SAT. 4TH PLACE CHAMPION DIVISION
2020 WORLD QUALIIFIED
2020 NATIONAL BLUETICK DAYS INVITATIONAL HUNT WINNER
2020 NATIONAL BLUETICK DAYS DOUBLE CAST WINNER 3RD PLACE GRNITECH FRI AND 4TH PLACE GRNITECH SAT
2020 Natl english days high scoring dog overall fri 1rst place grnitech sat 3rd place grnitech.

ALSO HOME OF
STEBERS SOUTHERN STYLE BRANDY[ BUZZ X STORMY]
PR Stebers lil blue krazee[dual grand penny x grnitech krypt]

NITECH STEBERS MIGHTY LONESOME 3 AKA CASH[2 wins towards grnitech] AND MANY MORE PROSPECTS OR MAYBES
---
Posted by Darren Hollis on 10-15-2019 12:41 PM:
KANDY
Congrats on the win!!!!!!!!!!!!!!!!!
__________________
SOUTHERN BLUETICK KENNEL (205-412-2122)

HOME OF:
GrChGrNtCh PR Southern Blue S&Hís Goose (Sparks&Hollis)
GrChGrNtCh PR Southern Blue Hardwood Cotton
GrNtCh PR Mose's Pink Floyd ( Co-Owned with Scott V)
GrChGrNtCh PR Lovellís Smokey River Blue Ann
ChNtCh PR Southern Blue Hardwood Dolly
ChGrNtCh PR Southern Blue Spanky ( Hollis & Hollis)
PR Southern Blue Drifter (Goose x NtChch Dolly)
PR Southern Blue Jessie (Goose x Dual Grand Cotton)
(REST IN PEACE)
GrNtChGrCh PR Southern Blue Moonshine
GrNtChGrCh PR Southern Blue Frostbite
NtChGrCh PR Southern Blue Queen
NtChGrCh PR Blue Eyes Blue Jessie
NtCh PR Southern Frost Hollow Blue Bell(BB)
NtCh PR Southern Blue Hammer
NtCh PR Hollis' Southern Blue Maggie
NtCh PR Hollis' Bull Mtn. Pearl
GrCh PR Southern Blue Jet
PR Southern Blue Sam
PR Southern Blue Rattler
---
Powered by: vBulletin Version 2.3.0
Copyright © Jelsoft Enterprises Limited 2000 - 2002.
Copyright 2003-2020, United Kennel Club